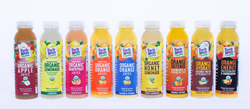 "Our Orange Energy drink is the answer to those who would prefer an organic energy boost without questionable ingredients. It has only three ingredients, is organic, and contains B and C Vitamins that are proven antioxidants." - Matt McLean
Clermont, Florida (PRWEB) March 06, 2017
Uncle Matt's Organic, the nation's original organic orange juice company, announced today their new look and packaging for their existing 12oz organic juice line along with a new 28oz sleek companion set geared towards smaller households. In addition, Uncle Matt's has expanded their functional juice offerings to include an Organic Energy drink boosted with the organic coffeeberryTM and the adaptogen super-herb, ashwagandha.
"Our new packaging is an evolution in our line that aims to target a broader audience," says Matt McLean, CEO and Founder of Uncle Matt's. "With the new sleek design, the grab-and-go 12oz juices are more appealing, and our brand new 28oz juice line offers millennials and smaller households a size that fits their lifestyle. Couple this new packaging with our expanding line of functional juices, and you get an easy, convenient solution for adding healthy nutrition into your daily life."
Uncle Matt's will unveil their new organic Orange Energy Juice and Honey Lemonade at Expo West in Anaheim, California. With half the sugar of regular lemonade, organic honey is a natural sweetener and paired with Uncle Matt's organic lemonade, it makes a refreshing beverage with less calories. The Organic Energy with coffeeberryTM and ashwagandha contains 100 mg of organic caffeine as compared to 80 mg in a standard cup of coffee. With only 3 ingredients, 160% RDV of Vitamin C, no added sugar and B vitamins, Orange Energy is a nutrition-packed boost without the jitters.
"Our Orange Energy drink is the answer to those who would prefer an organic energy boost without the questionable ingredients. Our Orange Energy has only three ingredients, is USDA organic, and also contains good-for-you B and C Vitamins that are proven antioxidants," says McLean. "In a convenient 12oz size it's easy to take with you on the run and isn't loaded with empty calories. Ashwagandha is an adaptogen herb, and is clinically proven for many health benefits, including cognitive function and memory," McLean added. "I wanted to make an energy drink that didn't give you the jitters but helped enhance mental focus while feeling uplifted."
"Our new organic Honey Lemonade is a lemonade I feel great about giving to my kids," McLean says. "Lemons are natural alkalizers and help the body cleanse. Combined with the power of organic rainforest honey, our Honey Lemonade is a healthier lemonade for your family."
Uncle Matt's will be featuring their new look and flavor offerings at Expo West in Booth 3113 and Fresh Ideas Booth F88 and they will be available this summer in natural food retailers nationwide. All of Uncle Matt's products are grown and produced without the use of GMOs or synthetic pesticides or fertilizers.
About Uncle Matt's Organic
Uncle Matt's Organic is a Florida-based, family-owned company offering premium quality organic juices and organic produce. All Uncle Matt's products have no synthetic additives or preservatives. Produce and finished products are produced under the strict regulation and guidelines of Quality Certification Services, the largest and most respected organic certifier in Florida. Products are available in health food stores and at Whole Foods and other supermarkets nationwide. The company is an active member of Organic Trade Association (OTA) and supports the Organic Farming Research Foundation and the Rodale Institute. To learn more visit http://www.unclematts.com or join the community on Facebook or Instagram.