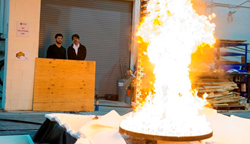 MOBILE, Alabama (PRWEB) March 03, 2017
MEDIA ADVISORY:
– A team of researchers from Worcester Polytechnic Institute (WPI), The Bureau of Safety and Environmental Enforcement (BSEE), and the United States Coast Guard (USCG) will test new oil burning technology, called the Flame Refluxer, March 15 at the Coast Guard's Joint Maritime Test Facility on Little Sand Island in Mobile, Ala.
WPI will be the first university to work with the Coast Guard on research at the facility since it reopened in 2015.
What: A new technology will be tested during a controlled burn of oil in a specially designed test tank on Little Sand Island. Media will be able to observe, photograph, and video the test.
When: Wednesday, March 15, 2017 (Weather date March 16)
7:00 a.m.-12:00 p.m.
Media availability: Subject matter experts will be available for interviews after the testing:
BSEE- Karen Stone, Oil Spill Response Engineer
USCG- Kurt Hansen, Program Manager
WPI- Ali Rangwala, Associate Professor of Fire Protection Engineering
Where: Meet at Coast Guard Sector Mobile, 1500 15th Street, Mobile, Ala.
(Reporters must arrive at dock at 7:00 a.m. to meet the transport boat which will take guests to Little Sand Island.)
Due to space constraints and safety restrictions, reporters wishing to cover the event are required to contact Colleen Wamback at cbwamback@wpi.edu, 508-831-6775, or 508-688-4858, by Wednesday, March 8. Closed toe shoes required; long pants, sunscreen, and bug repellant suggested.
Background: When an oil spill occurs in open water, a controlled burn can be the most effective tool for removing it before the oil can sink and cause ecological damage. Experience with open-water oil fires has shown that they can be difficult to sustain, produce smoke, and leave behind a tar-like residue that can harm marine life. In March, a team of researchers from Worcester Polytechnic Institute (WPI), the United States Coast Guard (USCG), and the Bureau of Safety and Environmental Enforcement (BSEE) will test a new technology developed at WPI to change the burning process and significantly improve clean-up.
The new technology, called the Flame Refluxer, consists of metal coils attached to a blanket made from copper wool sandwiched between two layers of copper mesh. The blanket is designed to be placed on top of floating oil that has been collected with a boom towed by two boats. After the oil is ignited, the coils and blanket transmit heat from the flames to superheat the oil, which increases its burning rate and efficiency. As a result, the oil burns more completely. The more complete combustion produces fewer airborne emissions, and any solid residue is captured by the copper wool and kept out of the water column. Watch a video that explains how the Flame Refluxer works.
The research is based, in part, on the experience of the 2010 Deepwater Horizon disaster, during which more than 400 controlled burns removed between 220,000 and 310,000 barrels of oil from the ocean's surface. The experience demonstrated the potential for burns to become an effective clean-up tool, but also made clear the limitations of current techniques. Ultimately, the Flame Refluxer is expected to become an important tool for oil spill responders to combat disasters.
About Worcester Polytechnic Institute- Founded in 1865 in Worcester, Mass., WPI is one of the nation's first engineering and technology universities. Its 14 academic departments offer more than 50 undergraduate and graduate degree programs in science, engineering, technology, business, the social sciences, and the humanities and arts, leading to bachelor's, master's and doctoral degrees. WPI's talented faculty work with students on interdisciplinary research that seeks solutions to important and socially relevant problems in fields as diverse as the life sciences and bioengineering, energy, information security, materials processing, and robotics. Students also have the opportunity to make a difference to communities and organizations around the world through the university's innovative Global Projects Program. There are more than 40 WPI project centers throughout the Americas, Africa, Asia-Pacific, and Europe.
About BSEE- BSEE works to promote safety, protect the environment, and conserve resources offshore through vigorous regulatory oversight and enforcement. BSEE has been the lead federal agency charged with improving safety and ensuring environmental protection related to the offshore energy industry, primarily oil and natural gas, on the U.S. Outer Continental Shelf.
About the USCG Research and Development Center- The Research and Development Center, located in New London, Conn., is the Coast Guard's sole facility performing research, development, and test and evaluation in support of the service's major missions. The Joint Maritime Test Facility in Mobile, Alabama provides an instrumented, real-world maritime test environ¬ment for the evaluation and demonstration of spill response technologies that includes in situ burns in a newly refur¬bished JMTF test tank.
Public Affairs Contact Information:
WPI- Colleen Wamback - 508-831-6775 or 508-688-4858 - cbwamback@wpi.edu
BSEE- Holly Fowler - 703-787-1504 - holly.fowler@bsee.gov
USCG- LT Chuck Clark- 860-271-2770 - Charles.J.Clark@uscg.mil