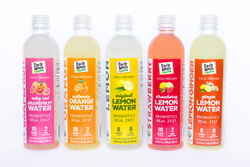 "Lemon is a natural alkalizer that helps to support detoxifying the body while ginger contains gingerol, a substance with powerful medicinal properties." Matt McLean
Clermont, Florida (PRWEB) March 07, 2017
Uncle Matt's Organic is adding two new flavors to their Fruit-Infused Organic Probiotic Waters line. Lemon Ginger and Lemon Strawberry flavors will be available Summer 2017 for distribution. Joining the existing line of Orange, Grapefruit and Lemon flavors, these functional waters combine proven and patented GanedenBC30® probiotics with the cold pressed power of fresh squeezed juice, as well as real zest, which contains healthy antioxidant flavonoids.
Each Fruit-Infused Water flavor is two grams or less of natural fruit sugar and 10 calories or less, and are available in a 16.9 oz size, perfect for the lunchbox, post-workout recovery or as a healthy upgrade to water.
Uncle Matt's fruit-infused waters also contain real organic citrus zest. The zest –– or citrus peel –– contains antioxidant flavonoids, like hesperidin. When used in their natural form, the zest's antioxidant effects are enhanced by the high levels of vitamin C found in citrus fruits.
"It was an easy decision to expand our fruit infused water line to include Lemon Ginger and Lemon Strawberry flavors," says Matt McLean, Founder and CEO of Uncle Matt's Organic. "Lemon is a natural alkalizer that helps to support detoxifying the body while ginger contains gingerol, a substance with powerful medicinal properties." McLean adds, "Our Lemon Strawberry also packs a healthy punch, since strawberries are a bonafide superfood and packed with Vitamin C, lutein, magnesium and potassium. Add Ganeden's clinically proven probiotic and you have a low calorie, low sugar beverage powerhouse."
As with other probiotic-enhanced beverages in the Uncle Matt's product line, the waters feature over 1 billion CFUs of patented GanedenBC30 probiotics (Bacillus coagulans GBI-30, 6086) per bottle, to support a healthy immune and digestive system. This innovative and science-backed strain of probiotics is spore forming—the protective spore makes it highly stable and allows for viability throughout processing, shelf life and gastric acidity. GanedenBC30 is certified kosher, halal, non-GMO, gluten free and allergen free.
Uncle Matt's fruit-infused waters are now available in natural foods stores nationwide, with a suggested MSRP of $3.99. Stop by Booth 3113 at Expo West to sample the new Fruit Infused Probiotic Water flavors.
About Uncle Matt's Organic
Uncle Matt's Organic is a Florida-based, family-owned company offering premium quality organic citrus juices and organic produce. All Uncle Matt's products have no synthetic additives or preservatives. Produce and finished products are produced under the strict regulation and guidelines of Quality Certification Services, the largest and most respected organic certifier in Florida. Products are available in health food stores and at Whole Foods and other supermarkets nationwide. The company is an active member of Organic Trade Association (OTA) and supports the Organic Farming Research Foundation and the Rodale Institute. To learn more visit http://www.unclematts.com or join the community on Facebook at http://www.facebook.com/unclematts.
About Ganeden
Ganeden is at the forefront of probiotic research and product development with an extensive library of published studies and more than 100 patents for probiotic technologies in the food, beverage, animal health, sports nutrition and personal care ingredients markets. Ganeden is best known for GanedenBC30® (Bacillus coagulans GBI-30, 6086), its patented, FDA GRAS, non-GMO, highly stable probiotic ingredient.  Ganeden's newest ingredient, Bonicel, is the first science-backed, probiotic-derived, personal care ingredient shown to dramatically reduce signs of aging.  For more information about Ganeden and licensing opportunities visit GanedenProbiotics.com.