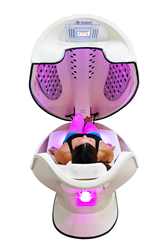 Minneapolis, Minnesota (PRWEB) March 07, 2017
The Cocoon POD System is being exhibited at booth #3054 at the 36th Annual IHRSA International Convention and Trade Show at the Los Angeles Convention Center from March 8 through March 11, 2017. The Cocoon POD is manufactured by Relaxwell USA in affiliation with Wellness-USA and PC Tan. The Cocoon POD is a personalized body chamber delivering soothing Hot Massage with 8-in-1 technologies including dry heat and IR sauna, vibration massage, face fan, aromatherapy, and salt air.
The innovative Hot Massage™ services made available with the Cocoon POD have become integral to the regimens of fitness club enthusiasts throughout the world. The new Cocoon Self-Automated Massage System (SAMS) combines the power of heat with soothing massage vibration to make the time-honored tradition of massage even better! Visit Website for additional details or contact Barbara Esanbock (800)445-8418 (info(at)wellness-usa(dot)com).