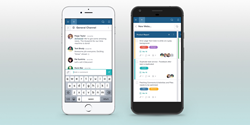 Using chat tools like WhatsApp for work related communication is risky. You have little control over who sees what. Deleting your team's chat channel may cause irreversible data loss. Finding old messages and shared files is nearly impossible.
New York (PRWEB) March 08, 2017
Leading project management app Taskworld today announces the launch of its new mobile app. The app consolidates all files, tasks, messages and analytics related to work in one secure place.
"Using chat tools like WhatsApp for work related communication can actually pose serious risks," said Anri Digholm, VP (Engineering) at Taskworld. "You have little control over who sees what. Deleting your team's chat channel may cause irreversible data loss. Finding old messages and shared files is nearly impossible due to limited search options and a lack of context."
Taskworld solves all of these problems. There is no question of data leakage when all your communication, files and tasks are in one secure place, instead of being spread across a host of different cloud services. This also means that you can find a document attached to a six month old task in a second. Taskworld lets you choose privacy settings for each project separately. This ensures that while everyone in the team can see conversations about the next company trip, only the managers have access to more sensitive information.
This is especially empowering for remote teams who may be working together from different locations. According to Future HR Trends' 2015 Report, almost 50 percent of managers in the U.S., UK and Germany are allowed to work remotely.
"Employees and managers are always overseeing multiple tasks, and they are not always in a central office," said Fred Mouawad, CEO of Taskworld. "We designed Taskworld's new mobile application to help busy teams adjust deadlines on the fly, assign tasks and view progress while on the move, and stay in the conversation, so they have more time to get their work done and never miss a beat."
The new Taskworld Mobile app, available on iOS and Android devices, offers the most complete task and project management experience on mobile:
1) Enterprise Messaging - With Taskword's new mobile app, you can send direct messages, comments, create private/public channels, add mentions to send push notifications and share files - all of your communication in context. You can see who has read your text without sending a follow up message and more importantly, your information is much more secure than using mass chat apps.
2) Lightspeed Sync - Taskworld's mobile app and web app work perfectly in sync. Whatever changes you make in one device are instantly reflected in the other. No more awkward lags or data mismatches.
3) Visual Task Boards - Your mobile app will now support visual task boards just like the web app. Create tasks, assign work and organize projects the way you want.
4) Push Notifications and Reminders - You don't have to be on the app at all times to stay in touch with your team. Get notified about direct messages, task updates and comments via push notifications. You can even hand-pick the kind of notifications that you'd like to receive. Push notifications are really helpful for urgent requests like sales inquiries, product issues or customer feedback or reminding yourself or your colleagues about overdue tasks.
5) Same Workflow on All Platforms - The new Taskworld mobile app works just like the web app. Once you and your team are on board with the web app, using the mobile version is seamless.
6) Mobile Matches Powerful Web Features - Project analytics, channels, people page, files tab, comments…the list goes on and on. Unlike most mobile apps that are poor cousins of their web apps, Taskworld's mobile app is on par in every aspect.
The pricing starts at $8 per month for a single person after a 15-day free trial. Downloading the mobile app is free. The platform is available in English, German, French, Italian, Japanese, Korean, Mandarin, Portuguese, Spanish, Standard Chinese, Bahasa and Thai. For more information about Taskworld, visit http://www.taskworld.com or follow the company on LinkedIn, Facebook and Twitter.
About Taskworld
Taskworld Inc., founded in New York in 2012 by serial entrepreneur Fred Mouawad, is a cloud-based task/project management software that is used by thousands of teams and solo users in more than 80 countries.