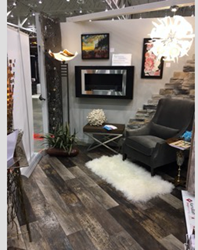 We are thrilled to be acknowledged for the hard work and creativity that went into our Array Design Studio booth. —Mineff
Cleveland, Ohio (PRWEB) March 16, 2017
Array Design Studio's booth recently won "Best of Show" at the 2017 Cleveland Great Big Home + Garden Show at the IX Center in the 10-foot by 10-foot "Remodeling and Renovation" category.
Designed by Array Design Studio owner and design contractor, Laura Mineff, the custom-built booth featured LVP (luxury vinyl plank) flooring, stacked stone, a unique chandelier, distinctive furniture and original artwork. The Array Design Studio booth was one of 12 winning booths out of more than 600 booths.
"We are thrilled to be acknowledged for the hard work and creativity that went into our Array Design Studio booth," said Mineff. "The Great Big Home + Garden Show was a huge success. We were able to connect with people who are seeking qualified, reliable resources for adjusting their homes and work environments to enhance their atmosphere."
"We had many amazing booths this year and it was a very difficult decision, but the Array Design Studio booth exemplified excellence in design," commented Rosanna Hrabnicky, show manager of the Great Big Home + Garden Show.
During the Great Big Home &+ Garden Show, Mineff made presentations at the IX Center's Main Stage. The presentation, titled, "Laura's New Insights To Altering Our Home Environment As We Age…For Every Age!" addressed making the necessary changes to enhance comfort and add value to living and work environments as we age.
As a show special, Mineff offered a one-hour free consultation. For a limited time, Mineff is extending the free one-hour consultation offer. Contact design(at)array-studio(dot)com or call 440-759-9094.
Array Design Studio is affiliated with Environmental Well Being of Aging, an organization that was formed to help support the goals of aging in the places we live. The vision for the organization is to create a universal and powerful change in the approach to aging, and become a voice for exposing new ideas and changing resources for living in an environment of well being as we age. Mineff believes that by establishing a plan and a network of services tailored to meeting individual needs measures can be achieved to maintain independence and happiness into the later journey of life.
About Array Design Studio
Leading the team at Array Design Studio, Mineff has been a designer and contractor for more than 18 years. Array Design Studio offers life-style consultation, building and designing concepts for individuals and commercial projects throughout the United States.
Mineff is a member of National Association of Women Business Owners (NAWBO), BNI and Home Builders Association (HBA) of Greater Cleveland and has been recognized with five stars from HOUZZ. The Building Industry Association (BIA) has acknowledged her business as a leader in green residential projects that integrated teams from the community and local student groups.
Mineff leads the Array Design Studio team of certified interior designers, CAD designers, design assistants and residential and commercial contractors that share her goal of helping her clients to dwell in the best environment for their emotional, physical and professional lives.
Visit http://www.array-studio.com
Follow us on Facebook
For the press and media interviews, please contact Nancy Valent at 216-513-8740 or email nancy(at)NMVstrategies(dot)com.