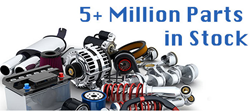 AutoPartsWAY.com is a company that loves to listen to its customers. We will always listen to our popular demand
New York, NY (PRWEB) March 11, 2017
In response to the overwhelming support that AutoPartsWAY.com received after announcing Bitcoin as a payment option for customers, the company is now happy to announce that it is accepting a wider variety of cryptocurrencies as payment options. AutoPartsWAY.com customers using the AutoPartsWAY.com website now have the ability to use zCash, LiteCoin, Dash, and PeerCoin as payment as well as Bitcoin. The company will soon be expanding these payment options to their Canadian based AutoPartsWAY.ca website as well.
"AutoPartsWAY.com is a company that loves to listen to its customers. The only reason that we incorporated cryptocurrencies in the first place was because our customers asked for them. We could have been happier with the response, and we are excited to introduce even more convenient ways to do business with us. We will always respond to popular demand."
The expansion of cryptocurrencies into the AutoPartsWAY.com system is expected to cause a noticeable rise in business, just as the expansion into Bitcoin created for the company. Moving more deeply into the cryptocurrency landscape offers AutoPartsWAY.com customers more options to pay, more security when paying and quicker delivery without a need for slow transfers between currencies, a process that can sometimes take days.
AutoPartsWAY.com continues to service the auto parts industry with an intuitive and convenient user interface for buying auto parts. Inventory includes over 900 brands and 5 million parts with over 40 fulfillment centers throughout the United States. As "The Smart Way to Buy Auto Parts Online," AutoPartsWAY.com guarantees free economy shipping on orders over $100.