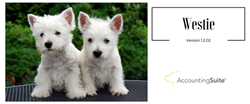 San Francisco, California (PRWEB) March 13, 2017
AccountingSuite announces its new product release, the Westie.
The release is inspired by the West Highland White Terrier, affectionately known as a Westie as the bulk of the updates are significant improvements to the user interface, key modules and cosmetic improvements to enhance the user experience.
Modules updated include shipping, sales orders, sales invoices, cash receipts, deposits, credit memos, bill payments, cloud banking, customer management, vendor management, audit log, sandbox, assembly build, improved document printing and more.
For more information, please contact, Warren Wong, warren [at] accountingsuite [dot] com.
About AccountingSuite:
AccountingSuite is a powerful, all-in-one business application that combines accounting, banking, order management, inventory management, project and time tracking into one cloud-driven platform.
Visit http://www.AccountingSuite.com or call, 415-GO-BLISS (415-462-5477).
Follow AccountingSuite on Twitter or Facebook, @AccountingSuite