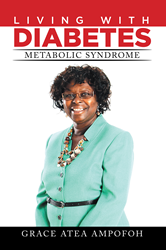 DOVER, Del. (PRWEB) March 13, 2017
As the topic of diabetes continues to sweep the news cycle, one woman is determined to raise awareness about the disease and help people take control of their health.
Grace Ampofoh was diagnosed with Type 2 diabetes when she was 28-years-old. Now 64, and a retired registered nurse, she shares her story in her new book, "Living with Diabetes."
The book is a comprehensive health guide allowing diabetes patients and their care takers to make healthier and more informed decisions about how to handle the disease and achieve optimum results.
Ampofoh said "Living with Diabetes" will motivate readers to do their best to control their condition by having a positive attitude and being optimistic. To achieve and maintain a healthy lifestyle, Ampofoh added that self-management of diabetes is imperative.
"I want readers to know that they have the opportunity to write their own story," said Ampofoh. "Just because you've been diagnosed with diabetes does not mean your life can not be a wonderful and exciting journey."
In "Living with Diabetes," readers will discover insights on topics such as diabetes self-management, coping mechanisms, as well as motivational support.
By: Grace Atea Ampofoh
"Living with Diabetes"
ISBN: 978-1-51441-767-6 (sc); 978-1-51441-768-3 (hc); 978-1-51441-766-9 (e-book)
Available on Xlibris, Amazon and Barnes & Noble
About the author
Now retired, Grace Atea Ampofoh was a registered nurse for 25 years where she took care of many elderly diabetic patients and family members. "Living with Diabetes" is her first book. For more information, please visit http://www.graceampofoh.com
###
Review Copies & Interview Requests:
LAVIDGE – Phoenix
Courtney Coombes
480-998-2600 x 612
Ccoombes(at)lavidge(dot)com
General Inquiries:
LAVIDGE – Phoenix
Maggie Driver
480-998-2600 x 584
mdriver(at)lavidge(dot)com