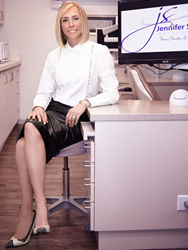 Invisalign® aligners bring a new level of service to our patients. They're more discreet than regular braces and may encourage more patients to take the steps necessary to have straighter teeth and better orthodontic health
New York, NY (PRWEB) March 14, 2017
Jennifer Stachel Orthodontics announced today that the practice is now offering complimentary Invisalign® consultations for prospective patients.
According to Dr. Jennifer Stachel, the founder of Jennifer Stachel Orthodontics, "Invisalign® aligners bring a new level of service to our patients. They're more discreet than regular braces and may encourage more patients to take the steps necessary to have straighter teeth and better orthodontic health."
Invisalign® aligners work with custom-made aligner trays made of smooth and nearly invisible material that patients wear over their teeth. Each tray is a part of a series that helps to gradually shift your teeth into the right place. Unlike traditional braces, there aren't any metal brackets or wires to tighten. Invisalign® aligners are considerably less noticeable than traditional braces. Every two weeks or so, the Invisalign® aligner is replaced with a slightly different one that slowly and gently moves teeth toward the right place.
Dr. Jennifer Stachel has been practicing orthodontics for more than 10 years in New York and has continued to offer the most innovative services to patients. Dr. Stachel has extensive experience in treating malocclusions and teeth whitening. She uses state-of-the-art orthodontic technology such as Invisalign, Forsus Appliance, Propel®, Acceledent®, Incognito™, Trudenta, iTero 3-D scanner, 365 E-D printer and 3-D X-ray system.
Dr. Stachel is a current member of the American Association of Orthodontics, Northeastern Society of Orthodontists, American Dental Association, New York County Dental Society, New York State Dental Association, American Association of Women Dentists, and American Academy of Facial Esthetics. She holds accreditation from the American Dental Association. At Temple University School of Dentistry, she earned the prestigious American Association of Public Health Dentistry's Pre-doctoral Community Dentistry Award.
Dr. Stachel and her team are pleased to offer Invisalign® aligners to patients as a modern and forward-thinking alternative to traditional braces. Jennifer Stachel Orthodontics is committed to using the latest orthodontic technology available to benefit her patients. Offering Invisalign® aligners is just one part of that commitment.
About Jennifer Stachel Orthodontics
Purchased by Dr. Jennifer Stachel in 2012, Jennifer Stachel Orthodontics is a well-known and respected orthodontist in NYC with more than 10 years of experience. Jennifer Stachel Orthodontics specializes in orthodontics, Invisalign, and teeth whitening. To learn more or to request an appointment, call (212) 877-7177 or visit the office at 315 W 57th Street, Suite 204, New York, NY 10019 or go to https://www.stachelorthodonticsnyc.com/.