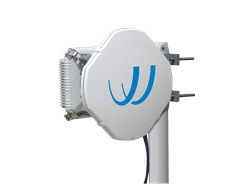 BridgeWave continues to deliver high performance solutions at low prices, so that customers can easily upgrade their network capacity at prices that make great business sense.
San Diego, CA (PRWEB) March 21, 2017
BridgeWave Communications, a market leader and pioneer in wireless backhaul systems, today unveiled the BridgeWave Flex4G-1000 (FL4G-1000), an ultra-low cost 70/80GHz millimeter wave system delivering 1Gbps full-duplex data throughput per radio and the highest system gain of any 80GHz radio on the market. The FL4G-1000, available in both ANSI and ETSI versions, is ideal for wireless internet service providers (ISPs) and others seeking gigabit connectivity with carrier-class features and ease of installation at industry-leading price points.
The FL4G-1000 is lightweight and ultra-compact to minimize installation and connectivity costs, and features carrier-grade Ethernet switch functionality, hitless adaptive rate modulation, and ultra-low power consumption with support for both POE and direct DC power feed. FL4G-1000 (ANSI/ETSI) offers direct mount antenna options from 12" (30cm) to 36" (90cm) for extreme system ranges and availabilities. FL4G-1000 (ETSI) is also available with an integrated low profile 8" (20cm) antenna to further simplify installation and provide an ultra-low visibility solution for metro applications. The FL4G-1000 provides ISPs with all the functionality they need for quick deployment and the opportunity to quickly increase subscriber revenue.
"BridgeWave continues to bring high performance solutions at low prices to deliver substantial return-on-investment to customers in different market verticals, and the Flex4G-1000 is the latest example," said Hesham El-Adly, product marketing manager for BridgeWave. "Wireless internet service providers can easily upgrade their networks to one-gigabit-per-second capacity with the carrier-class features and functionality that BridgeWave is known for, at a price that makes great business sense."
The FL4G-1000 is available for immediate order and shipment.
BridgeWave offers a wide portfolio of solutions from 1Gbps to 10Gbps to address the diverse applications and price points in the market. FL4G products have been designed with the same antennas, form factors, and common features implementation, allowing customers to upgrade from lower capacity to higher capacity radios with minimal disruption to the network equipment through BridgeWave's upgrade program. BridgeWave radios support 60GHz, 70/80GHz, and 6-42GHz frequency bands, and all BridgeWave radios have been designed specifically to boost network capacity and ease network expansion. In the coming months, BridgeWave will announce two more products that are feature-rich, and deliver ultra-high capacity at remarkable price points. The first is a high capacity licensed microwave system with unique features enabling faster ROI to operators, and the next is an 80GHz system which will deliver 10Gbps capacity for true fiber replacement, along with unique technology to significantly improve bandwidth utilization.
About BridgeWave
BridgeWave Communications provides high-capacity microwave and millimeter wave backhaul and wireless connectivity solutions to operators, carriers, service providers, governments, and private enterprises.The company's innovative solutions have been entrusted by customers to enable highly reliable and secure, high-capacity, gigabit connectivity while reducing operating costs relative to fiber. Founded in 1999, BridgeWave is headquartered in San Diego, California. For more information, visit http://www.bridgewave.com.