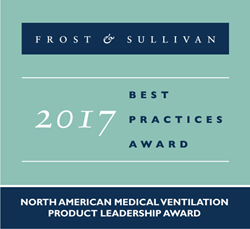 Draeger is the leader in the North American ventilator market, addressing the most pressing needs of critical care, transport care, and neonates.
Telford, Pa. (PRWEB) March 16, 2017
Draeger today announced that its portfolio of medical ventilators has received the Frost & Sullivan 2017 Medical Ventilation Product Leadership Award. Considered best-in-class by various hospitals and health systems, Draeger's ventilators were recognized for their reliability and quality, stellar support services and robust, flexible design, fitting the needs of a broad range of care settings and patient types.
Mechanical ventilation is a critical-care component for patients of all ages; however, long-term use comes with the risk of ventilator-associated pneumonia and complications associated with ventilator-induced lung injury. To reduce these potential complications, Draeger ventilators offer automated weaning and lung-protective technologies. Frost & Sullivan acknowledged Draeger's Babylog VN500 ventilators that fill the critical need for neonatal- and pediatric-specific ventilators in North America. Additionally, the ventilators were recognized for their easy transfer, storage and analysis of data. Draeger was lauded for its 24/7/365 intensive care online (ICON) support services.
"During the judging process, we heard from Draeger customers who noted the company's commitment to mechanical ventilation enhancements and its role as a partner in care," said John Weber at Frost & Sullivan. "Draeger is the leader in the North American ventilator market, addressing the most pressing needs of critical care, transport care and neonates."
"We are thrilled to receive this prestigious award, as it speaks to Draeger's long-time commitment to innovating the mechanical ventilation market," said Lothar Thielen, President and Regional CEO North America, Draeger. "We will continue to work closely with the healthcare community to ensure our ventilators continue to be the gold standard for care. Thank you to Frost & Sullivan for this honor."
For the award, Frost & Sullivan analysts evaluated Product Family Attributes (match to need, reliability/quality, product/service value, positioning and design) and Business Impact (financial performance, customer acquisition, operational efficiency, growth potential and human capital). Draeger received a 9.0 score (on a 10-point scale), a full point higher than the nearest competitor.
To learn more about Draeger's portfolio of ventilators, visit: http://www.draeger.com.
Draeger: Technology for Life
Draeger is an international leader in the fields of medical and safety technology. Our products protect, support, and save lives. Founded in 1889, Draeger generated revenues of more than € 2.5 billion in 2016. The Draeger Group is currently present in over 190 countries and has more than 13,000 employees worldwide. Please visit http://www.draeger.com for more information.
In addition, to learn more, find us on Twitter @DraegerNews, LinkedIn, YouTube and Facebook.