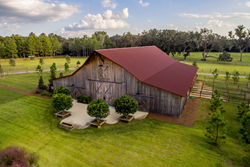 "Barn homes are perfect for those who are searching for a unique and unconventional style home," said Steve Hall, Hearthstone Vice President.
Ocala, FL (PRWEB) March 17, 2017
Hearthstone has a long history of designing and building spectacular log and timber frame homes and commercial buildings throughout the United States and in foreign countries. However, they are now looking to expand their line of custom barns due to the recent success they had with equestrian facilities in Ocala, FL and Wellington, FL.
The traditional design and use of the "barn" has evolved tremendously over the years. However barns continue to reflect the definitive American soul: the sweat, blood, self-reliance, ingenuity, pride, and unbreakable commitment to doing what must be done. With that same spirit and tradition, Hearthstone introduces their line of custom barns.
The possibilities are endless when it comes to the use of barns. Hearthstone recently finished a unique barn in Ocala, FL that was built as a 4-H demonstration project. "The customer wanted a multipurpose facility that could accommodate educational needs with a large hall suitable for fundraising and charity events," said John Ricketson, Hearthstone Project Manager. Academy Prep of St. Pete is one such mission and consists of mainly inner-city youths that are selected on the basis of need and achievement that can benefit from such an environment. "Half of the barn is laid out like a traditional horse barn, accommodation the customers Thoroughbred horses...The other half of the barn features cathedral ceilings and stunning light fixtures, creating the perfect backdrop for almost any type of event. From weddings, parties, banquets, and fundraisers timber frame barns can accommodate any style of gathering," said Ricketson. "The atmosphere created by a timber frame provides for harmonious interaction between nature, family, and guests," he said.
"They wanted a barn that reflected the look and feel of barns built at the dawn of the 20th century on the exterior which we found to be a little challenging at first," he said. Hearthstone developed a process for giving the timbers a surface texture that mimicked the circular cuts of timbers that had just come out of an old sawmill. "This was easier said than done," said Ricketson.
Hearthstone's owner Randy Giles guided his millwright Krausslich Wolfgang in designing a machine that would do this effectively. Many new creative surfaces have since been developed including planed smooth with chamfered edges, hand hewn, WeatherAged™, distressed, and many more.
The naturally weathered cypress board & batten gave the barn the perfect rustic finish. Both Hearthstone and the customer deemed the project as very successful.
One of Hearthstone's most popular innovations is the "barn home" due to it's open, airy floor plans and massive posts and beams. "Barn homes are perfect for those who are searching for a unique and unconventional style home," said Steve Hall, Hearthstone Vice President. Hearthstone barn homes convey the aesthetics of a traditional barn combined with an exciting modern design. "Any guests that you invite over are sure to be in awe when they see your new barn home," said Hall. Flexibility of design, appearance, and function are key to the popularity of timber frame barns. Any exterior look or architectural style can be designed using wood, brick, stone or stucco from any period. The inside includes stunning timbers of any style or wood specie.
Another popular style of barn home Hearthstone offers is a "Cottage Style" barn. These cottage barns combine traditional farm home elements such as exposed beams and pitched ceilings with contemporary rustic touches, creating a space that is full of character and coziness. People often turn to cottage style barn homes when building a second home or looking to downsize.
For those needing extra space for family gatherings or guests in general, a Hearthstone guest barn may be just the solution. With their efficient design, a lot of living is allowed in a small space.
With the growing popularity of barn homes, barn doors, and barn wood in general, Hearthstone feels that custom barns will be one of the hottest home building trends of 2017. The atmosphere and strength of character with the finest in modern design, engineering, and technical details make these multi-purpose structures hard to surpass.