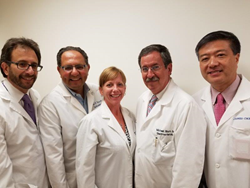 Miami, FL (PRWEB) March 15, 2017
Gastro Health, LLC ("Gastro Health") today announced that they have entered into a definitive agreement to acquire South Palm GI, P.A. ("South Palm GI"), one of the leading gastroenterology practices in Delray Beach, FL.
Established in 1999, South Palm GI is a private gastroenterology practice that is comprised of four physicians: Dr. Michael Blum, Dr. James Chong, Dr. Jonathan Kaplan and Dr. Morris Naus. Additionally, South Palm GI employs an advanced registered nurse practitioner, specializing in gastroenterology. The doctors at South Palm will continue providing the excellent care that their patients have come to expect. This partnership will make additional resources available to the practice, allowing them to offer even more patients the safe and affordable gastrointestinal care they need. All of Gastro Health's care centers are equipped with the latest state-of-the-art technology to ensure the best outcomes possible for each individual patient.
"We are very excited to become a part of Gastro Health, which is one of the preeminent leaders in gastroenterology in the United States," said Dr. Michael Blum, President of South Palm GI. "We look forward to expanding our patient care services and continuing to deliver quality gastrointestinal care for our patients."
"We are thrilled to have South Palm GI join Gastro Health, which complements our new Wellington location and plans for expansion in Palm Beach County," said Gastro Health, CEO, Alejandro Fernandez. "South Palm GI is a premier practice located in Delray Beach, FL with highly skilled providers and staff. We look forward to helping the community of Delray Beach with all of their digestive health needs."
About Gastro Health
Gastro Health, founded in 2006, is a gastroenterology physician practice management company headquartered in Miami, FL that includes some of the nation's premier gastroenterologists, pediatric gastroenterologists, colorectal surgeons, and allied health professionals. In addition to delivering gastrointestinal care, these providers offer a wide range of additional services including: anesthesia, infusion, imaging, pathology, specialty pharmacy and in-office RX dispensing. Gastro Health takes pride in providing outstanding medical care and an exceptional healthcare experience for patients. Additional information is available at http://www.gastrohealth.com or call 1-855-GASTRO1.