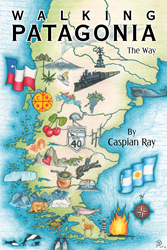 FAYETTEVILLE, Ark. (PRWEB) March 20, 2017
Taking the journey of a lifetime, author Caspian Ray shares his story of traveling through Patagonia on foot, living a series of adventures, being immersed in local cultures, and falling in love in his book "Walking Patagonia."
Ray travels throughout South America, where he eventually reaches Patagonia, a sparsely populated area shared by Argentina and Chile. In this region, he becomes particularly enamored by life in Argentina.
"This story is an adventure that leads to love and marriage," said Ray. "Everyone dreams of going on a trip, falling in love, and having it all work it, which happened to me in the most dramatic, hilarious fashion that the literary world has ever seen."
Due to his experiences, Ray also recognizes the many issues in Argentina regarding immigration and racism that share parallels with the United States.
"Walking Patagonia" is Ray's gift to the world, sharing the many fascinating wonders of South America and the adventures that can be had by those who take the less traveled path in life.
"Walking Patagonia"
By Caspian Ray
ISBN: 978-1-4808-4044-7 (hardcover); 978-1-4808-4045-4 (softcover);
978-1-4808-4046-1 (eBook)
Available on Amazon, Barnes & Noble, and Archway Publishing
About the author
Caspian Ray wrote "Walking Patagonia" to tell his life story. He is also the cofounder and COO of Patagonia Bee Products. For secret photos from the adventure, follow @thepatagoniabook on Instagram or email the author at thepatagoniabook(at)gmail(dot)com to learn more.
###
Review Copies & Interview Requests:
LAVIDGE – Phoenix
Bryan Beach
480-998-2600 x 510
bbeach(at)lavidge(dot)com
General Inquiries:
LAVIDGE – Phoenix
Chris Pena
480-998-2600 x 519
cpena(at)lavidge(dot)com