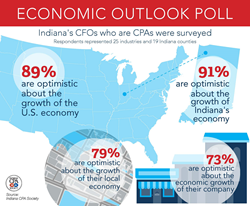 Social volatility and discord, lack of political cooperation, divisiveness will deter growth in all areas. Loosening restrictions on business and improving the business climate will help.
Indianapolis, IN (PRWEB) March 16, 2017
The economic outlook for the near future on all levels is bright, according to many of the state's leading CPAs. Nearly 50 CPAs who serve as chief financial officers for their businesses were recently surveyed, and an overwhelming majority were either moderately or very optimistic about the prospects for economic growth over the next six to 12 months.
The poll, conducted by the Indiana CPA Society from mid-February to early March, asked Indiana's trusted business advisors about their views on current economic growth in general for the nation, the state of Indiana, and their local city or county, in addition to the prospects for growth within their specific industry and the company they work for. Download infographic.
The most optimism overall is for the state's economy, with 64 percent moderately optimistic and 17 percent very optimistic, for a total of 81 percent being optimistic. Slightly less, 79 percent, were optimistic about both the U.S. economy and their local economy. It was the local economy, however, that received the highest "very optimistic" rating with 28 percent.
Within the variety of industries that the CPA CFOs represent, 55 percent are optimistic (44 percent moderately optimistic and 11 percent very optimistic) about the potential for growth in their industry. And 73 percent are optimistic (53 moderately optimistic and 20 percent very optimistic) about the potential for growth of their own company.
Another indicator of note was that the level of pessimism (a combination of "moderately pessimistic" and "very pessimistic") was relatively low for all segments. Only 10 percent were pessimistic about the U.S. economy, and just four percent were pessimistic about both the Indiana and local economies. Twenty-five percent were pessimistic about their industry, but only nine percent were pessimistic about their company.
Neutral responses regarding the three economies, their industry and their business ranged from 10 percent to 20 percent, with the CPA's industry being the highest neutral response and the U.S. economy being the lowest neutral response.
Survey respondents were also asked for comments on the factors they believe will either aid or prevent economic growth. Here is a sampling of those responses:

"Our new president's policies on the economy, international affairs, Affordable Care Act, and homeland security."
"The potential of tax reform and the availability of unskilled labor."
"Social volatility and discord, lack of political cooperation, divisiveness will deter growth in all areas. Loosening restrictions on business and improving the business climate will help."
"Continued investment in facilities at the state public and private schools. Public construction projects. Healthcare construction and professional services spend is up."
"Tax cuts with common sense balance to revenue producers to offset."
"A pro-business President and Governor will aid economic growth."
"1) Congress and White House doing the job we deserve. 2) Tax reform, or not. 3) U.S. reputation and actions remaining stable and viewed as a leader in foreign affairs. And 4) energy costs."
Survey respondents represented 19 counties from throughout the state of Indiana including Allen, Boone, Daviess, Delaware, Elkhart, Franklin, Grant, Hamilton, Hancock, Hendricks, Howard, Jackson, Marion, Monroe, Perry, Ripley, Tippecanoe, Vanderburgh and White counties.
The 25 industries the survey respondents represent cover a cross section of Indiana's businesses: agriculture, automotive, building materials, concrete and masonry, construction, distribution, education, electrical, food manufacturing, gaming, healthcare, industrial real estate, insurance, manufacturing, mechanical, museum, not-for-profit, pharmaceutical, plumbing, professional services, real estate, tax credit syndicator, telecommunications, transportation and truck maintenance.
###
About the Indiana CPA Society
Nearly 8,100 CPAs in public practice, business and industry, government and education are members of the Indiana CPA Society. INCPAS is the most trusted business resource and advocate in Indiana. Its members are required to abide by the CPA profession's code of conduct. INCPAS members also receive access to quality educational programs and peer networking for knowledge sharing. Society members are trusted advisors to Indiana's business community. INCPAS celebrated its 100th anniversary in 2015. For more information, visit incpas.org.