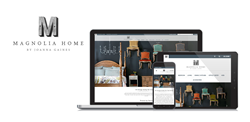 Fort Walton Beach, FL (PRWEB) March 20, 2017
The Bit-Wizards Digital Marketing and Application Development teams are excited to announce the newly launched Magnolia Home brand website built on the Kentico Online Marketing Solution and hosted in Microsoft Azure App Services.
Standard Furniture acquired the Magnolia Home brand line of furniture in 2016. Joanna Gaines designs Magnolia Home brand furniture and is co-host of HGTVs popular TV show Fixer Upper.
Founded in 1946, Standard Furniture is a leading case goods manufacturer and is family-owned and American-based. Standard Furniture operates manufacturing and distribution facilities in Bay Minette, Alabama. Combined, Standard Furniture has nearly a thousand employees both domestically and overseas. With more than 80% of their workforce based in the US, they have 1.4 million square feet of manufacturing space, 1.5 million square feet of warehouse space and a fleet of 40+ trucks which enable Standard to provide delivery options to meet their retailer's needs.
Originally, Standard Furniture came to Bit-Wizards to redesign and redevelop the Standard Furniture branded website. However, during the initial planning and discovery phases of the project, the company decided to move forward on a website project for the newly purchased Magnolia Home brand. The Bit-Wizards team built a consumer-facing website for the Magnolia Home brand as well as a B2B e-commerce website where their retail customers can place orders.
Bit-Wizards worked closely with the Standard Furniture IT and Marketing teams, consulting on the right technology decisions for each step of the project. The Kentico Online Marketing Solution was chosen for both its content management, integration, and enterprise marketing functionality. Standard Furniture understands that they need to empower their Marketing team to build content, publish and run campaigns without continual assistance from the IT department.
Along with marketing functionality, Bit-Wizards expanded the website's power by building custom integration for Standard Furniture's order fulfillment needs from their AS400 ERP Database. The custom integration with the new website both pushes and pulls data out of this system to provide Standard Furniture a complete picture of all of their orders in a single pane using the Kentico website. Currently, orders are submitted three ways: through the website, manually by sales reps, and by retailers using their industry EDI ordering tool. Plans for the website include the necessity to shift and use the website for all orders no matter the channel.
The website is fully responsive and optimized for mobile browsing, and hosted in Microsoft Azure App Services. The Magnolia Home website launched on February 15, 2017. Since the launch, Standard Furniture has begun their next project with Bit-Wizards. The redesign and development of the main Standard Furniture website using Kentico and Microsoft Azure.