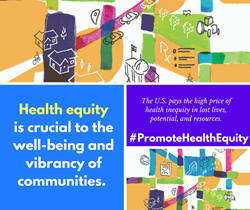 "No single agency, no matter how large, can solve such a complex problem alone." -Sam Joo, Magnolia Community Initiative Director
Los Angeles (PRWEB) March 21, 2017
Magnolia Community Initiative (MCI) has been recognized by the National Academy of Medicine as one of nine examples in the U.S. of community-based solutions that address health inequities. MCI, which seeks to increase social connectedness, community mobilization, and access to vital supports and services to improve outcomes for children in Los Angeles, was featured in the recently released report Communities in Action: Pathways to Health Equity.
The burdens of poor health and the benefits of good health and well-being are inequitably distributed in the U.S. due to factors that range from poverty and inadequate housing to structural racism and discrimination, says the report. Community-driven interventions targeting these factors hold the greatest promise for promoting health equity -- the state in which everyone has the opportunity to attain full health potential and no one is disadvantaged from achieving this potential because of social position or any other socially defined circumstance.
Communities-- defined in the report as the residents, religious congregations, community-based organizations, and others who live and work in a specific geographic location -- can play a powerful role in changing the conditions for health. Their actions need a nurturing environment, supported and facilitated by public and private sector policies, resources, and partnerships. A community-based solution is an action, policy, law, or program that is driven by the community, affects local factors that can influence health, and has the potential to advance health equity. The committee that conducted the study and wrote the report identified nine examples of community-based solutions that address health inequities, all of which share the three elements in the report's conceptual model: making health equity a shared vision and value, fostering multisector collaboration, and increasing community capacity to shape outcomes.
"MCI is not a short-term fix for isolated problems or services. This long-term approach to changing the life trajectory of large populations of vulnerable children requires the input and support of many and diverse stakeholders. No single agency, no matter how large, can solve such a complex problem alone," said Sam Joo, Magnolia Community Initiative Director.
ABOUT MAGNOLIA COMMUNITY INITIATIVE
Magnolia Community Initiative (MCI) is a pioneering collaborative effort to reimagine how resource providers, communities and parents can collaborate to strengthen families and prepare children to succeed. MCI combines an understanding of what is necessary to improve a child's well-being with expertise in how to evolve complex, multi-service systems. Focusing on a 500-block area in Los Angeles as a proving ground, MCI is developing effective, sustainable strategies to build a community that supports strong, stable and nurturing families. MCI is spearheaded by Children's Bureau, one of the largest investors in child abuse prevention in the country. To learn more about MCI, visit http://www.magnoliaplacela.org.
# # #