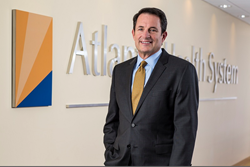 New Jersey ranks 30th out of 50 states for screening rates. Our role in this initiative and collaboration with community partners will increase screenings and ultimately, save lives
Morristown, NJ (PRWEB) March 23, 2017
Atlantic Health System (AHS), a leading health care delivery network, announced today the organization's commitment to increase colorectal cancer screening in New Jersey by joining '80% by 2018' - a national effort of the American Cancer Society in the fight against the disease.
Colorectal cancer is the third most commonly diagnosed cancer in both men and women. In 2017, there will be an estimated 95,520 new cases of colon cancer and 39,910 cases of rectal cancer diagnosed in the U.S.
The national percentage of adults 50 and older that are up-to-date with recommended colorectal cancer screening was 65 percent in 2010.
"This announcement marks Atlantic Health System's commitment to achieve an 80 percent screening rate for colorectal cancer by 2018," said Brian Gragnolati, President & CEO. "New Jersey ranks 30th out of 50 states for screening rates. Our role in this initiative and collaboration with community partners will increase screenings and ultimately, save lives."
Colorectal cancer incidence rates continue to decline in people 50 and older, dropping by 32 percent just since 2000.
"This trend is thought to be largely a result of screening, which can prevent colorectal cancer by detecting and removing precancerous polyps," said Eric Whitman, MD, medical director, Atlantic Health System Cancer Care. "If caught early, colorectal cancer is highly curable, but advanced disease remains difficult to treat. Adults age 50 and older should be regularly screened for colorectal cancer," added Whitman.
In a stark contrast to the colorectal cancer incidence trends in those 50 and older, incidence rates among people younger than 50 continue to rise, increasing by 22 percent from 2000 to 2013. While the reasons for the increase have yet to be confirmed, factors thought to play a role include increasing rates of excess body weight, as well as changes in lifestyle patterns that precipitated the obesity epidemic, like unhealthy dietary patterns and a sedentary lifestyle.
Despite dramatic reductions in overall colorectal cancer incidence and mortality, striking disparities by age, race, and tumor subsite remain. That's according to the latest edition of Colorectal Cancer Statistics and its companion publication, Colorectal Cancer Facts & Figures 2017-2019, published every three years by the American Cancer Society.
The hospitals and physicians of Atlantic Health System Cancer Care - Morristown, Overlook, Chilton, Newton and Hackettstown medical centers, as well as Atlantic Medical Group - have expanded access to screenings and partnered with local community organizations to raise awareness about the importance of regular screening.
'80% by 2018' is a shared goal led by the National Colorectal Cancer Roundtable (NCCRT). The Roundtable was started by the American Cancer Society and the Center for Disease Control and Prevention (CDC) in 1997.