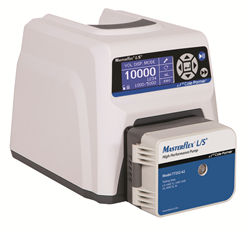 Vernon Hills, IL (PRWEB) March 23, 2017
The new design of the Masterflex® L/S® High-Performance Pump Head from Cole-Parmer offers even better performance than its predecessor with faster tubing changes, improved ergonomics, and the highest pressure performance and flow rates of any L/S pump head. The pump head's pressure performance extends up to 150 psi (10.3 bar) with L/S high-pressure (HP) pump tubing. Flow rates can reach up to 3400 mL/min with L/S High-performance precision tubing.
To ensure repeatability and consistent performance, tubing occlusion is automatic and optimized when pump head is closed and latched. Other features of the pump head include reinforced nylon housing and occlusion bed with stainless steel rotor/roller assembly. Models with open-head interlock sensor stop drive motor when pump head is open (when used with sensor-equipped drives). This pump head is compatible with all L/S drives that accept two or more pump heads. It is ideal for peristaltic pump operators in the pharmaceutical, biopharmaceutical, and food and beverage industries.
For more information, visit ColeParmer.com
Cole-Parmer has been a leading global source of laboratory and industrial fluid handling products, instrumentation, equipment, and supplies since 1955. Our product lines, including popular brand names such as Masterflex®, Ismatec®, Oakton®, Digi-Sense™, and more, are sold through company-owned customer channel outlets and a strong network of international dealers. We also feature an ISO-17025-accredited metrology lab for instrument calibration and repair. Cole-Parmer responds with excellence to customer needs, and offers application expertise and technical support. For more information, contact Cole-Parmer, 625 East Bunker Court, Vernon Hills, IL 60061. In the US, call 800-323-4340. International customers, call 847-549-7600. You can also visit ColeParmer.com.