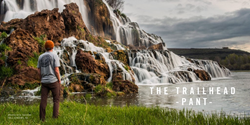 (PRWEB) March 23, 2017
Coalatree recently launched their second Kickstarter campaign to raise funds for its newest outdoor product, the revolutionary Trailhead Adventure Pant. The project funded in less than 8 hours and with more than 30 days left its already at a remarkable 170,000K and on track to hit over a half a million. That is 150,000K more than the current record holder!
The first iteration of The Trailheads was released in 2014 and given rave reviews from media sources like Outside Mag, and Climbing Mag. The first generation sold through global retailers including Backcountry.com, Swell, Urban Outfitters, and Amazon. They were a huge success, selling out in both reseller marketplaces and Coalatree's own online store. But, the dedicated Coalatree team, led by Founder Charlie Bessey, knew the Trailheads could be even better.
Over the next three years, Bessey and his team poured over features, capabilities, and design. Ultimately creating the newest and best rendition of the Trailhead pant they possibly could. The Trailheads feature a patent pending multi-purpose waterproof technical fabric, reinforced seams, and countless other upgrades. "We created the Trailhead pants to change how people interact with their clothing. Not just your average outdoor or work pant, but a pant that can always be ready to go with you." Bessey said, "Something that could be used not just by the avid traveler or outdoor adventurer, but by moms and people from all walks of life."
Designed in Salt Lake City, The Trailheads will be crafted from a patent-pending waterproofed spandex nylon rip stop fabric sourced from the blue sign approved, eco-friendly factory in Taiwan. Funding product runs is an expensive undertaking which led Coalatree to turn to crowdfunding opportunities. "We love Kickstarter, It gives us an opportunity to make the highest quality goods we can without dealing with retail markups. It's really a win, win for developers and consumers" said Bessey.
Link to Kickstarter campaign:
https://www.kickstarter.com/projects/coalatree/trail-head-20-the-ultimate-packable-technical-pant?ref=598qol
About Coalatree
Coalatree, founded in 2010, is dedicated to inspiring sustainability and self-reliance - one grow-bag, one recycled t-shirt, and one community at a time. Sourcing only the finest sustainable materials from throughout the world, Coalatreecrafts products from organic and recycled materials. Check out Coalatree products and mission on the Website, Facebook, Instagram, or call +1-385-557-4281.
###
Sarah Brodersen
Senior Public Relations Account Executive
ChicExecs Brand Development
820 Los Vallecitos Blvd. Ste A-C
San Marcos, CA, 92069
T: 760.429.6702
C: 310.210.0841
http://www.chicexecs.com
sarah(at)chicexecs(dot)com