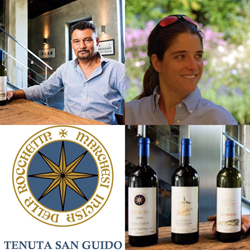 Every vintage gives an identity to each wine. However, the significance of a territory can be most appreciated in those years considered difficult as opposed to those that were favourable in every aspect.
Verona, Italy (PRWEB) March 24, 2017
On Tuesday April 11th from 11am to 1pm, Vinitaly International Academy (VIA) will host "Back in time with Sassicaia: The Forgotten Vintages", a tasting seminar with Priscilla Incisa della Rocchetta and Carlo Paoli of one of the most notable wineries in the world, Tenuta San Guido from Bolgheri, Tuscany. Along with Ian D'Agata, award winning wine journalist and scientific director of VIA, they will guide through the tastings of 8 different vintages of the iconic wine, Sassicaia.
1992, 1994, 2002, 2005, 2007, 2008, 2010, 2014 —-. Some of these years have been regarded as difficult vintage years for Italian wine. The reasons may range from having a growing season marked by hail and heavy rain as it was for the year 2002, to having to work with frequently changing climates in the summer like in 2008. However, "it is actually in years like those that a great winemaker can show his experience and make fine wines," states Doctor D'Agata. "Often times people seek for the best years such as 2000 and 2001, but it is beautiful when you see wines from other years also age gracefully into absolutely great wines".
Priscilla Incisa della Rocchetta from the winery Tenuta San Guido agrees; "Every vintage gives an identity to each wine. However, the significance of a territory can be most appreciated in those years considered difficult as opposed to those that were favourable in every aspect. As the wine ages, all the elements that constitute the terroir such as the type of grape, its rootstock, the sun exposure and the age of the plant, which becomes the expressive notes and the precise identity of a product, re-emerges. These are features that might have slipped away while tasting the wine at a younger age".
"This aspect clearly emerges with Sassicaia vintages that are considered "smaller". In those the positive notes of elegance, freshness and pleasantness of the wine are attained in the slow process of ripening of the tannins and sometimes make up for the lack of structure and body that instead identify wines produced in great vintages. In the case of Sassicaia it is a wine produced following a philosophy based on elegance rather than structure, it is a great advantage," continues Priscilla.
In most cases vertical tastings are focused on more homogeneous or well-known vintages. Priscilla confirms "that is why it will be a special occasion in which some expressive vintages of Sassicaia will be compared and examined with others that are considered "smaller". It will offer the possibility to discover vintages that were less known at the time of their first release, and have now shown their evolution with time."
This VIA seminar among 5 other at Vinitaly confirms, once more, the Academy's commitment to excellence in wine education. Since 2014, the Academy has held courses exclusively dedicated to Italian wine and it's grapes and have certified 6 Italian Wine Experts and 55 Italian Wine Ambassadors from around the world. To learn more about VIA, please go to: http://www.vinitalyinternational.com/vinitaly-international-academy
About:
Veronafiere is the leading organizer of trade shows in Italy including Vinitaly (http://www.vinitaly.com), the largest wine and spirits fair in the world. During its 50th edition Vinitaly counted more than 4,100 exhibitors on a 100,000+ square meter area and 130,000 visitors from 140 different countries. The next edition of the fair will take place on 9 - 12 April 2017. The premier event to Vinitaly, OperaWine (http://www.operawine.it) "Finest Italian Wines: 100 Great Producers," will unite international wine professionals on April 8th in the heart of Verona, offering them the unique opportunity to discover and taste the wines of the 100 Best Italian Producers, as selected by Wine Spectator. Since 1998 Vinitaly International travels to several countries such as Russia, China, USA and Hong Kong thanks to its strategic arm abroad, Vinitaly International. In February 2014 Vinitaly International launched an educational project, the Vinitaly International Academy (VIA) with the aim of divulging and broadcasting the excellence and diversity of Italian wine around the globe. VIA this year launched the second edition of its Certification Course and today counts 55 Italian Wine Ambassadors and 6 Italian Wine Experts.