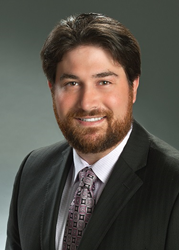 Todd Baker elected to Young Lawyers Division of the Florida Bar
Fort Lauderdale, FL (PRWEB) March 29, 2017
Steinger, Iscoe & Greene, a personal injury law firm serving the South Florida area since 1997, proudly recognizes the election of attorney Todd Baker to the Florida Bar Young Lawyers Division 17th Circuit, Seat 4. Baker, who was admitted to the Florida Bar in 2011, has a passion for helping people and the skill set to help those who have been wronged.
Baker won by 7 votes in the closest race of the state. He will be sworn in during the Florida Bar's 67th Annual Convention in June 2017.
Baker is an avid supporter of the legal community.

Currently serving as the President of the Young Lawyer's Section of the Broward County Bar Association
Previously served as Treasurer-elect, Secretary and Director
Currently serves as Mentorship Chair on the Broward County Bar Association
Director the Broward County Justice Association
Nominated as a 2017 Super Lawyers Rising Star
"Everyone at the firm is so proud of Mr. Baker's victory," said Michael Steinger, founding partner of Steinger, Iscoe and Greene, "as well as his prior and ongoing accomplishments. It is inspiring seeing one of our attorneys holding several leadership positions and representing the members of our industry the best way we can."
The Young Lawyers Division of The Florida Bar has over 26,000 members, comprised of lawyers under age 36 and new Florida Bar members for the first 5 years. The YLD's purpose is to stimulate and encourage interest in support of the Florida Bar. Division members are encouraged to participate in committees, and are offered an opportunity to network with legal professionals.
About Steinger, Iscoe & Greene
Steinger, Iscoe & Greene is a personal injury law firm in South Florida with a mission to get injury victims every dollar they truly deserve. The firm and its partners, Michael S. Steinger, Gary T. Iscoe, & Sean J. Greene have successfully recovered over one billion dollars for their clients and handled thousands of personal injury cases since 1997. With more than 30 lawyers, 150 legal professionals, and offices throughout South Florida, the firm is ready to advocate on behalf of injury victims with knowledgeable and superior service.