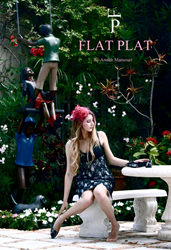 FLAT PLAT was created from personal necessity. Not all women are built the same way and some, usually the most trendy of us, have been wearing high heals from a relatively young age
Miami, FL (PRWEB) March 28, 2017
"FLAT PLAT was created from personal necessity. Not all women are built the same way and some, usually the most trendy of us, have been wearing high heals from a relatively young age", says Arefeh Mansouri: An award winning Designer and Harvard Kennedy School Alum.
Arefeh Mansouri is the youngest Iranian-American Inventor to be granted a US Patent for her new twist on the classic flat shoe: "For myself, the transition from heals to Flats always came at a price, and that was severe discomfort in my joints and the small of my back. I would always look with envy at women who could walk in flat shoes for hours and felt left out because I could not do the same. This inspired me to innovate and find a solution for Women who share this problem."
So, in collaboration with a Neuro-Interventional Pain Specialist, Arefeh set out to create a new type of Flat Shoe. The design was based on a premise, that after years of wearing and adapting to high heals, the female body develops a certain compensatory posture and gate. This adaptive posture does not transition well into traditional Flat shoes and hence the discomfort in the feet, curvature off the spine and certain major joints.
With this theory as a driving force, the goal of creating a comfortable flat shoe was reached. Of course the designer had to add her own aesthetic touch. Her flats are truly beautiful and an expression of her artistic flare.
Real world comfort with a USA Patented outsole and a proprietary heal to toe ratio that delivers maximum comfort in a design that is timeless, practical, versatile, and adaptable to multiple design sensibilities.
Pre-production of FLAT PLAT will begin in 2017 along with acceptance of Pre-orders. Please visit http://www.FLATPLAT.com to place your order today.