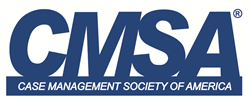 "We are thrilled to have these talented individuals join our Board of Directors as we continue to strengthen our profession of Case Management, across the full care continuum." Kathleen Fraser MSN, MHA, RN-BC, CCM, CRRN, CMSA National Executive Director
Little Rock, AR (PRWEB) March 27, 2017
The Case Management Society of America (CMSA) will install six new members to the CMSA National Board of Directors on June 30, 2017. CMSA's membership has elected their upcoming President-Elect, Secretary, Treasurer and two Directors to serve on the national board. In addition to our current Military Advisory position, a new VA Advisory position has also been added to the BOD, per an appointment made by CMSA President Mary McLaughlin-Davis. The new leaders will begin their terms at the end of CMSA's 27th Annual Conference & Expo held this year in Austin, Texas the week of June 26-30, 2017.
"All six of our newest Board members embody the spirit and passion of case management and bring talent, expertise and energy to the table", stated Kathleen Fraser MSN, MHA, RN-BC, CCM, CRRN, CMSA National Executive Director. "We are very excited to have these talented individuals join our Board of Directors as we continue to strengthen our profession of Case Management, across the full care continuum".
The following six leaders will be installed to the CMSA Board of Directors:
PRESIDENT-ELECT
Dr. Jose Alejandro PhD, RN-BC, MBA, CCM, ACM, FACHE, FAAN
2017-2018
SECRETARY
Jody Luttrell, MSN, RN, CCM
2017-2019
TREASURER
Jose Santoro, MBA
2017-2020
DIRECTORS
Pat Noonan, RN, MBA, CCM
2017-2020
Ellen Fink-Samnick, MSW, ACSW, LCSW, CCM, CRP
2017-2020
VA ADVISOR
Derenda Lovelace, MSN, RN-BS, CM
2017-2018
CMSA President Mary McLaughlin-Davis, DNP, ACNS-BC, NEA-BC, CCM, remarked, "All of the candidates will be welcomed by both the CMSA membership and current board. It is truly amazing to see the eagerness of our members who will help us continue to proclaim the importance and relevance of case management. With these new additions we will continue to support all case/care managers throughout the healthcare spectrum."
One of several initiatives the national board will focus on as it looks at CMSA's strategic priorities for 2017 and beyond is a re-launch of improved product offerings, including Career and Knowledge Pathways (CKP) and Integrated Case Management Training (ICM). Other initiatives include a more robust offering in certifications.
About the Case Management Society of America (CMSA)
Established in 1990, the Case Management Society of America is the leading non-profit association dedicated to the support and development of the profession of case management. CMSA serves more than 30,000 members, subscribers and participants, and 80 local and international chapters through educational forums, networking opportunities, legislative advocacy and established standards to advance the profession. For more information, visit http://www.cmsa.org or follow CMSA on Twitter @CMSANational