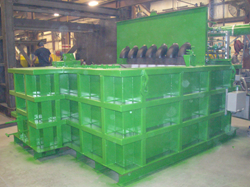 Riverside, MI (PRWEB) March 29, 2017
Lindberg/MPH announced the shipment of a gas fired melting and holding furnace. The furnace incorporates seven (7) immersion tubes, each with its own burner and ratio regulator control.
The maximum temperature rating for this furnace is 850°F. The bath capacity is 45,000 lbs. of molten zinc. The system is rated at 2,300,000 BTU/hr. The furnace temperature controller includes a PID loop and LED display. The furnace includes an adjacent pump well with stainless steel weir to isolate dross. A splash shield was added to protect combustion piping from molten metal contact. The 180°F exhaust deflector improves efficiency and reduces noise.
"The design of this system facilitates energy efficient melting and holding of the zinc and precise temperature control. Lindberg/MPH also supplied control and power wiring." – Andrew Paul
Unique features of this Lindberg/MPH furnace include:

Individually operable spark ignited burners with flame rod flame safety
Each burner has its own gas/air ratio regulator assuring the correct air and gas mixture for dependable ignition and efficient combustion
On-off firing allows for a wide input range virtually eliminating temperature creep
Adjacent pump well with stainless steel weir
Temperature and overtemperature control
Drain tap for complete draining of the furnace
Splash shield
Exhaust deflectors
About Lindberg/MPH
Lindberg/MPH is a leading manufacturer of standard and custom industrial heat treat furnaces, including pit, box, IQ, and belt type for the ferrous and non-ferrous markets. Lindberg/MPH customers cover a wide range of industries including aerospace/military, automotive, commercial heat treating, energy/oil, electronics and the forging markets. Founded in 1917, the company has more than 75,000 industrial furnace installations worldwide and their equipment is backed by a full range of customer support services and the most extensive replacement parts inventory in the industry. Lindberg/MPH is a proven leader in the thermal processing industry, with a long track record of proven policies and management practices.
Lindberg/MPH is owned by Thermal Product Solutions ("TPS"), a leading American manufacturer of custom industrial ovens used for heat treating, finishing, drying, curing, manufacturing automation and process control. TPS is a global leader in thermal processing products and test solutions with brands including Baker Furnace, BlueM, Gruenberg, Tenney, Lindberg, MPH, and Wisconsin Oven. For more information on equipment solutions from TPS visit the website at http://www.thermalproductsolutions.com. #225394