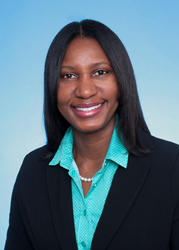 Michelle is a firm believer in promoting from within and continually develops her employees to their full potential.
Melbourne, FL (PRWEB) March 29, 2017
Space Coast Credit Union is pleased to announce the promotion of Michelle Ashley to the position of Director of Retail Services. In her new role, Ashley will be responsible for the management of SCCU's 13 branches and membership in Broward and Palm Beach County.
Ashley joined the credit union in 2007 as Manager of the Pines Hiatus branch. In this position, she built and led a team of high performing professionals, delivering memorable member experiences and impacting the lives of SCCU members on a daily basis. Under her leadership, the Pines Hiatus branch was awarded SCCU Branch of the Month five times in one year for consistently achieving sales production goals and delivering high member satisfaction as measured by net promoter score. In recognition of her accomplishments, Ashley was promoted to the role of Branch Manager III overseeing the West Miramar and Pembroke Pines Wal-Mart branches in 2015.
SCCU places the highest strategic focus on developing mission focused leaders, and Ashley's proven record of protecting members' financial interesting is evidenced by a consistent Watchdog rating of 4.6 stars out of 5 for branches under her leadership.
In addition to her contributions at the branch level, Ashley has also played a key role during SCCU's recent member systems upgrade, serving as a vital member on three separate teams dedicated to streamlining activity within branches and creating more efficient member service.
According to Ashley, a 15 year veteran in the banking industry, she is most proud of the individuals she has had a hand in developing who have moved on into leadership positions within the credit union.
"Michelle is a firm believer in promoting from within and continually develops her employees to their full potential," said Heather Hickman, Senior Vice President of Retail Delivery. "Her contributions have been significant, and throughout the years Michelle has demonstrated a solid ability in taking on and completing initiatives that have provided positive impacts for our members."
About SCCU
Space Coast Credit Union was chartered in 1951 and is headquartered in Melbourne, Florida. The credit union serves more than 364,000 members with assets of over $3.9 billion through a network of 58 branches and over 100 ATMs located throughout Florida and through its website SCCU.com. Space Coast Credit Union is open for membership to anyone who lives or works in the fourteen Florida counties it serves. Visit SCCU.com/Careers to learn more about what SCCU has to offer and view a list of current job openings in each department.