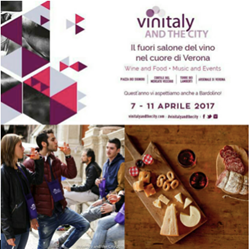 Vinitaly and the City will allow audiences to rediscover all the ingredients of the Italian art of living: sipping outstanding wine, sampling healthy food, listening to music, delving into the arts, chatting to friends, meeting people, forging communities
(PRWEB) March 30, 2017
Vinitaly and the City, Vinitaly's so-called fuorisalone or off-site showcase, is returning from April 7th to 11th in a longer and more wide-ranging festival which will give audiences a taste of Italian dolce vita. Vinitaly and the City runs parallel to Vinitaly to bring the Italian wine excellence directly to wine lovers in the heart of Fair Verona, with a program of events dedicated to great wine, food, music, culture, and conviviality.
In Italian, the word fuorisalone designates a series of B2C events taking place alongside traditional B2B showcases, generally off-site. These outdoor showcases mostly revolve around various types of entertainment and live shows. Vinitaly and the City has completely transformed and revolutionized fuorisalone formulas by creating a unique event of international stand, combining the quality and prestige of Italian wine with food, culture, tourism, and a diverse entertainment program, all in a Unesco World Heritage Site and one of the most romantic cities in the world, Verona.
Since 2015, Vinitaly has worked to develop a special showcase for wine lovers in the historic Renaissance piazzas and scenic spots of Verona. A Unesco World Heritage Site for its urban design, showcasing 2,000 years of architectural styles in its buildings, Verona's city centre is a site of exceptional beauty for Vinitaly and the City. Wine lovers will be able to taste prestigious wines and delicious food in century-old squares and monuments, including the scenic Torre dei Lamberti, which will become an exclusive pouring point with a view of the city. This year, the festival will feature an extra day of events and also the additional location of Bardolino, one of the quaintest towns on Lake Garda and the home of a famous red wine. In Bardolino the events will be hosted in the historic Villa Carrara Bottagisio and on the Cornicello lake-side walk.
Verona's cobblestone streets, beautifully-preserved squares and period buildings, where Romeo and Juliet's tragedy unfolded, will feature pouring points and food tasting stalls. In the Austrian Arsenal near the Adige river, visitors will be able to immerse themselves in the world of organic and biodynamic wines with "Biologic dalla Terra alla Strada," a showcase which will also be accompanied by gourmet street food and live entertainment. Tickets for Vinitaly and the City are a bargain: €15 for 3 wine and 2 food tastings (if bought on line before 6 April, tickets only cost €13). With a maximum of €15, for example, wine lovers will be able to taste iconic wines while lounging in the fifteenth century Loggia di Frà Giocondo in Piazza dei Signori. There, the Vinitaly Wine Club will showcase premium wines from prestigious Italian wineries: reds like Barbaresco DOCG Rio Sordo Riserva 2011 from the Marchesi di Barolo winery, or a Marina Cvetic Montepulciano d'Abruzzo DOC Riserva San Martino 2014 from the Masciarelli winery; and for white wine enthusiasts, the Sicilian Nozze d'Oro 2014 from the Tasca d'Almerita winery or the Biancosesto 2015 from La Tunella Winery in Friuli Venezia Giulia. Stevie Kim, Managing Director of Vinitaly International, enthusiastically comments on the uniqueness of Vinitaly and the City: "I challenge anyone in the world to offer a better way of experiencing the Italian dolce vita, sipping these great wines and eating delicious Italian food while enjoying a scenic view from the top of the Torre dei Lamberti for only 15 euros. I challenge anyone in the whole world to give a better bang for your buck!" Vinitaly and the City also provides a great occasion for producers and international professionals exhibiting at Vinitaly, to explore Verona and its charming spots during their free moments.
The entertainment program is wide-ranging and caters to all interests: live music with national and international acts, DJs, literary talks and book launches, educational seminars with masterclasses on wine with sommeliers and experts, Italian cooking shows with chefs, guided tours of the city to discover its rich artistic history. Adopting the same philosophy which brought to Verona, during OperaWine 2016, people like Sting, both a musician and a wine producer in Tuscany, this year, many events explore the connections between wine and various other arts, particularly music. The live concert with Joe Bastianich is perhaps the quintessential Vinitaly and the City event: an eclectic celebrity of the food and wine showbiz, the New York restaurateur, winemaker, writer, judge for Masterchef in both U.S. and Italy, Bastianich is also a rocker and will perform on Sunday 9 April with his band. This and many other shows will crystallize, once again, the affinity between the wine world and the world of the arts that is typical of Italian culture.
Vinitaly and the City will allow audiences to rediscover all the ingredients of the Italian art of living: sipping outstanding wine, sampling healthy food, listening to music, delving into the arts, chatting to friends, meeting people, forging communities. From April 7th to 11th Vinitaly and the City opens the doors of Verona to everyone: wine lovers, foodies, young and young at heart, tourists, business travelers, and flaneurs.
Details about the event and online tickets are available on https://vinitalyandthecity.com/
About:
Veronafiere is the leading organizer of trade shows in Italy including Vinitaly (http://www.vinitaly.com), the largest wine and spirits fair in the world. During its 50th edition Vinitaly counted more than 4,100 exhibitors on a 100,000+ square meter area and 130,000 visitors from 140 different countries. The next edition of the fair will take place on 9 - 12 April 2017. The premier event to Vinitaly, OperaWine (http://www.operawine.it) "Finest Italian Wines: 100 Great Producers," will unite international wine professionals on April 8th in the heart of Verona, offering them the unique opportunity to discover and taste the wines of the 100 Best Italian Producers, as selected by Wine Spectator. Since 1998 Vinitaly International travels to several countries such as Russia, China, USA and Hong Kong thanks to its strategic arm abroad, Vinitaly International. In February 2014 Vinitaly International launched an educational project, the Vinitaly International Academy (VIA) with the aim of divulging and broadcasting the excellence and diversity of Italian wine around the globe. VIA this year launched the second edition of its Certification Course and today counts 55 Italian Wine Ambassadors and 6 Italian Wine Experts.