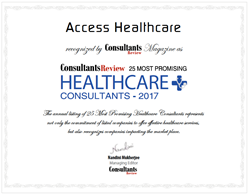 Our value to healthcare providers is in achieving efficiency through a compliment of understanding the healthcare domain and the ability to source, deploy and develop the right resources efficiently. - Anurag Jain, Chairman, Access Healthcare
Dallas, TX (PRWEB) March 30, 2017
Access Healthcare was named by the Consultants Review magazine among the top 25 Healthcare Consultants in India for the work the company is doing in transforming Revenue Cycle Management.
"Our winning consultants are truly game-changers," noted the magazine. "The Top 25 Consultants are a distinguished group of companies. Through their extraordinary efforts, they are delivering transformational value for their clients, while developing the next generation of solutions and service offerings."
"Access Healthcare offers end-to-end revenue cycle management solutions to healthcare providers on a differentiated model that applies automation, infuses scalability to the customers processes and by providing qualified resources on demand" the magazine wrote. "With complex algorithms and past data analytics, AH can reduce any unnecessary labor costs by predictive analysis determining when to follow up with the payers and prioritizing outreach."
"Healthcare providers who choose to work with us are not only committed to quality care, they are committed to excellence in managing the revenue cycle," said Anurag Jain, Chairman of Access Healthcare. "They must achieve efficiency in effort to support their financial priorities, which in turn supports their mission of providing care. As a dynamic Business Process Organization (BPO), our value to them is in achieving that efficiency through a compliment of understanding the healthcare domain and the ability to source, deploy and develop the right resources efficiently. At the core of that capability is Access Healthcare RPA (Robotic Process Automation), a solution built on Artificial Intelligence and machine learning technologies. The results tell a compelling story as customers are now experiencing a new level of revenue cycle performance."
Reflecting on the recognition, Shaji Ravi, President and Managing Director for Access Healthcare said, "Six years ago AH (Access Healthcare) began with just three employees. We are now 7,000 and growing. While that's a compelling story of job creation and opportunity, it's only part of the story. The catalyst for starting this journey was understanding that there was a market gap in the development and application of better technology to help solve the growing complexities and demands of revenue cycle management. Yes, people are still part of the equation. But the right people complimented by better technology is critical in achieving efficiencies that deliver tangible value for healthcare providers to use in pursuing their mission. Since the beginning, closing that gap has been foundational in who we are and why we are here."
ABOUT ACCESS HEALTHCARE
Exceptional healthcare organizations compliment the highest standards of care with a commitment to excellence in revenue cycle management. Billing companies and healthcare provider systems use Access Healthcare to bring excellence to their back-office Revenue Cycle Management enabling better focus on strategic priorities, like profitability and creating great patient experiences. By leveraging the Access Healthcare Best Practice Engine for Revenue Cycle Management, our focus on creating results enables not only improved profitability, but opportunity to cultivate growth through reduced costs, better productivity, and higher quality. For more information, check out accesshealthcare.org.
ABOUT CONSULTANTS REVIEW
Published from Bangalore, India, Consultant's Review is an excellent platform, which connects both consultants and organizations to work together for a better output. In addition to that, information about the latest trends, opportunities, developments and much more about the consulting from the experts makes Consultant Review a one stop destination for people such as CEO, COO, CFO, IT Managers, HR Managers, Recruitment heads, Training Heads and consultants who are interested to learn about the present scenario of consultancy market. For more information, check out consultantsreview.com
MEDIA CONTACT:
Peter Snell
psnell(at)illumeture(dot)com
214.810.6207
Sumitra Sundaram
info(at)accesshealthcare(dot)co
+91 98844 09349
Nandini Mukherjee (Managing Editor)
editor(at)consultantsreview(dot)com
+91-80-46441135
To view the press release online, Click https://www.accesshealthcare.org/news/2017/3/30/consultants-review-magazine-access-healthcare-named-among-top-25-healthcare-consultants