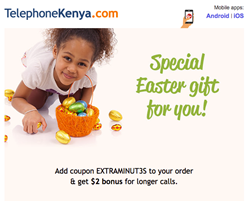 I have saved a ton of money. Calling 20 or so people in Africa . . . and talking for awhile to each would be impossible for me to afford without TelephoneKenya.com. (James Raymond on Trustpilot.com)
Atlanta, Georgia (PRWEB) April 03, 2017
TelephoneKenya.com, the platform dedicated to Kenyans worldwide, launches new opportunities to save money on calls to Kenya around Easter. Between April 4-6, $2 Bonus calling credit is automatically added on every purchase of $15 Voice Credit. Secondly, there's a new Facebook contest running on TelephoneKenya timeline between April 4-11. The giveaway is a $10 Voice Credit, which means up to 50 international calling minutes to Kenya, that never expire. The only condition to benefit of any of the two offers is to have an online account on the website, which costs zero: https://telephonekenya.com/
Kenyans get up to 20 minutes extra to call Kenya every time they purchase $15 Voice Credit on TelephoneKenya.com using coupon EXTRAMINUT3S, between April 4-6, 2017. Just to have an idea, $15 Voice Credit balance can be used to call both landlines and mobiles in Kenya, for up to 151 minutes total calling time. The bonus never expires.
The regular rate to call mobiles in Kenya is 11.9 cents/minute, while the rate to call landlines there is 9.9 cents/minute. No hidden fees apply, and free features can be activated to make the international calls feel like local calls. Outside this promotion, Thank You points apply to every Voice Credit purchase. These loyalty points can be later converted into gift calling minutes, that never expire and can be used to call any destination in the world, besides Kenya.
International calls using the Voice Credit balance can be placed in 3 different ways:

using KeepCalling app, which costs nothing to be installed and can be used to make direct calls;
using access numbers when someone doesn't use a smartphone or no Internet connection is available (no 3G, 4G or WiFi); it is the smartest alternative to calling cards nowadays.
using Web Call to call any phone in the world from one's laptop or PC; no download is needed, since the desktop app is already installed in one's account on TelephoneKenya.com.
The Facebook contest celebrates the personal feeling people have towards Easter. The challenge is to leave a comment with the answer to the question "What do you like most about Easter?" All comments between April 4-11, 2017 enter the race for free international calls worth of $10 Voice Credit via TelephoneKenya.com.
Besides Voice Credit, Mobile Recharge (mobile top ups) from abroad are very common with expats as a mobile credit transfer service. Hundred thousands of Kenyans in the USA, Canada, Australia and other parts of the world use the Mobile Recharge service on TelephoneKenya.com to send credit to their families in Kenya for at least 4 reasons:

It takes few seconds to send airtime abroad with TelephoneKenya.com.
Expats support their relatives since their power of purchase is higher.
Kenyans send mobile credit gifts easily this way.
Kenyans spare their family members living in villages the hassle of going miles to the store and have their mobile phone loaded.
At present, any prepaid mobile in Kenya subscribed to Safaricom, Airtel or Orange, can be recharged online on TelephoneKenya.com. The processing fee is the smallest on the market, and the top ups are instant.
Kenyans who use TelephoneKenya.com talk about this provider on Trustpilot and other review platforms and point out to more advantages that kept them loyal:

24/7 Support is available for anyone looking for some guidance.
The staff is multilingual and friendly, and their answers are prompt; they are among the services with the shortest waiting time.
Payments are secure; the website is labeled with "Verified & Secure".
Payment methods are flexible; PayPal and all major cards are accepted, no matter the currency of the bank account and the country of residence.
There are no hidden fees.
Promotions are regular.
The recent Voice Credit promotion as well as the Facebook contest, running from April 4 to April 11 on TelephoneKenya.com Facebook page, are two good ways to save on international calls.It costs nothing to open an account on the website and join promotions and fun Facebook competitions for free calls and top ups.
TelephoneKenya.com is a mobile-friendly website dedicated to the Kenyan diaspora in the USA, Canada, Australia, Asia and Europe. The service is a brand of KeepCalling, a global telecommunications company registered in 2002 in the USA. Presently, KeepCalling provides its services to hundreds of thousands of consumers and businesses, with a focus on customer satisfaction and transparency of service. KeepCalling was listed by Inc 5000 as one of the fastest growing companies in the USA for 5 consecutive years.