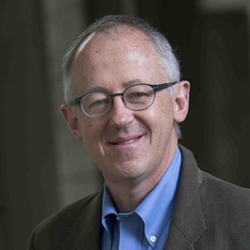 We're bringing in the nation's top innovators and data scientists to help attendees establish a solid analytics strategy.
New York, NY (PRWEB) March 31, 2017
HIMSS announced today that Dr. Stefano M. Bertozzi, Dean and Professor of Health Policy and Management at UC Berkeley's School of Public Health, will deliver the Day 2 keynote at the Big Data & Healthcare Analytics Forum, the nation's leading event for health organizations tackling analytics. The event kicks off at the Grand Hyatt San Francisco, May 15-16, 2017.
Bertozzi will deliver his keynote Using Bigger Data To Improve Population Health Tuesday, May 16, 2017, at 9:05 a.m. Bertozzi joins top data experts from leading institutions, including Advocate Health Care, Harvard Medical School, Kaiser Permanente, and Sutter Health.
"Data and analytics are key drivers to reducing costs and improving patient care for healthcare organizations," said John Whelan, Executive Vice President, HIMSS Media. "This May, we're bringing in the nation's top innovators and data scientists to help attendees establish a solid analytics strategy that can drive both business and clinical ROI at their own organizations."
Sponsored by 3M, HealthDataViz, Jvion, PureStorage, and Qlik, the two-day Big Data & Healthcare Analytics Forum features 17 thought leadership sessions attendees can choose from and eight unique networking opportunities – all designed to provide analytics best practices, actionable strategies, and business solutions they can put to work to improve patient care.
The HIMSS Big Data & Healthcare Analytics Forum West Coast edition brings together big data experts from leading organizations who will share tips and techniques eliminating data silos; driving ROI; data warehousing; driving adoption; population health; predictive analytics; preventing readmissions; non-traditional datasets; machine learning; and more.
Keynotes:

Harvard Medical School/Brigham & Women's Hospital: Leonard D'Avolio, Assistant Professor
Stanford University School of Medicine: Zeeshan Syed, Clinical Associate Professor
UC Berkeley School of Public Health: Stefano M. Bertozzi, Dean and Professor of Health Policy and Management
Featured Speakers:

Advocate Health Care: Anupam Goel, Vice President of Clinical Information
El Camino Hospital: Cheryl Reinking, RN, Chief Nursing Officer
Healthcare Center of Excellence: J. Bryan Bennett, Executive Director
Presbyterian Healthcare Services: Soyal Momin, Vice President, Data & Analytics
Sutter Health: Sameer Badlani, Chief Health Information Officer
UCLA Health: Joycee Berin, Director of Business Intelligence, Office of Health Informatics & Analytics
UCSF Health: Ami Parekh, MD, Executive Medical Director, Population Health and Accountable Care
University of Chicago: Samuel Volchenboum, MD, Director, Center for Research Informatics
Visit our event website for more information, to register now, or see a complete speaker lineup.
About HIMSS Media
HIMSS Media is the fastest growing B2B media group focused exclusively on healthcare and technology markets. Through its suite of market-leading brands, such as Healthcare IT News, Healthcare Finance and MobiHealthNews, HIMSS Media delivers news, analysis and must-have information to an audience of senior healthcare and technology influencers. HIMSS Media is also the leading producer of important live events, such as MobiHealthNews 2016, Privacy & Security Forum, Pop Health Forum, Revenue Cycle Solutions Summit, and Big Data and Healthcare Analytics Forum.
About HIMSS
HIMSS is a global voice, advisor, convener, and thought leader of health transformation through the best use of IT with a unique breadth and depth of expertise and capabilities to improve the quality, safety, and cost-effectiveness of health and healthcare. Through its network of over 1 million professionals, including 64,000-plus members, HIMSS advises leaders, stakeholders and influencers globally on IT best practices to ensure decision-makers have the right information at the right time to make the right decisions. HIMSS North America, HIMSS Analytics, Personal Connected Health Alliance, HIMSS Media and HIMSS International (HIMSS Europe, HIMSS Asia and HIMSS Middle East) are the five business units of HIMSS. A not-for-profit headquartered in Chicago, Illinois, HIMSS has additional offices in North America, Europe, United Kingdom, and Asia.