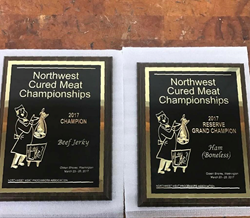 We are so very proud of our high quality products and our great team who are true masters of the smoking and sausage craft.
Seattle, WA (PRWEB) March 31, 2017
Just this last week B & E Meats and Seafood took home two championship awards for beef jerky (whole muscle) and ham (boneless) at the Annual Northwest Cured Meat Championship Awards held by the Northwest Meat Processors Association, based out of Walla Walla, WA. Jeff Green and Steve Dunaychuk, co-owners of B & E Meats and Seafood, have brought home top awards at this annual event in the prior years for their summer sausage (Grand Champion and Best Smoked Product in the Northwest), smoked polish sausage and beef jerky. The jerky and ham were judged on their general appearance, aroma, texture of the cut surface (ham), mouth feel (jerky), inside color, flavor and edibility (jerky). Meat smoking and sausage mastery is a big part of B & E's success.
Founded in 1958 by Bob and Earl Green, who are now retired, B & E Meats and Seafood is now run by Jeff Green who is intimately involved in every detail of the business operations including concocting their secret, house-made recipes that are made daily. Together, Green and Dunaychuk, a co-owner, produce their smoked products at each of their four locations.
This year's Northwest Meat Processors Convention, held March 23-25 at Ocean Shores Convention Center, Ocean Shores, WA, included 185 entries in 15 categories. Topics included group purchasing, supply chain, specialty meat processing, panel discussion on seasonings, casings and sausage production along with a trade show and championship awards. There were about fifteen meat plants that competed in the 35 year contest.
The event was attended by Jeff Green and B & E Sausage Maker Matt Pearson. Green says, "We are so very proud of our high quality products and our great team who are true masters of the smoking and sausage craft." B & E Meats and Seafood carry cured and smoked products including jerky, salmon, meat snacks, bacon, turkey, ham and sausages. Along with these and other meat and seafood products, known as the best meat and seafood in Seattle, they also have a number of branded seasonings, sauces and rubs including their very tasty B & E "Butcher's" Blend.
With Easter fast approaching Green and Dunaychuk are preparing hundreds of award-winning hams (gourmet bone-in @$5.99/lb : spiral sliced bone-in @$6.99/lb : Phil's boneless ham @$7.99/lb), as well as their famous and mouth-watering "Prime" standing rib roast @$21.99/lb, Sheperds Pride antibiotic and hormone-free rack of lamb @$24.99/lb and smoked candied salmon @$26.99/lb to serve up to their loyal fan base. B & E even provides holiday cooking instructions and recipes that customers can access on the B & E website.
For more information about B & E Meats and Seafood (located in Queen Anne/Seattle; Burien; Des Moines; Newcastle), visit their website at: http://www.bnemeats.com/.
For media inquiries, contact Bettina Carey at askbettina(at)gmail(dot)com.
About B & E Meats and Seafood:
Founded nearly 60 years ago by brothers Bob and Earl Green, B & E Meats and Seafood serves the northwest with the highest quality meats, the freshest seafood including Copper River Salmon, and outstanding marinated products such as Teriyaki Beef Tri-tips, Kalbi Marinated Beef Ribs, Award Winning Beef Jerky, and always delicious Smoked Salmon Candy. After nearly 40 successful years in the meat business, Bob and Earl retired. Bob's son and daughter-in-law, Jeff and Trisha Green took the helm. Together with their daughter, Dena, who joined the family business in 2008, and Steve Dunaychuk, who became a minority partner in 2014, the business has continued to grow thanks to friendly staff and high quality, unique products.