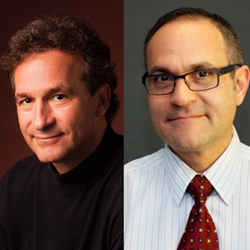 "Government regulations do impact healthcare provider marketing, but it can be done safely with proper training and expert guidance." - Dr. Jeff Segal, Founder/CEO eMerit
Greensboro, North Carolina (PRWEB) April 04, 2017
Join board-certified neurosurgeon and founder/CEO of Medical Justice and eMerit, Jeff Segal, and Scott Zeitzer, president of Mudbug Media and P3 Inbound, April 26th for a live webinar about how doctors can embrace online marketing and comply with HIPAA, the FTC, and other regulatory boards.
The increased use of electronically stored health data, cloud services, and online marketing along with new regulatory requirements make it easier for healthcare providers to unknowingly break the law. Just one mistake in managing protected health information can result in large fines and/or lawsuits. New legislation has toughened enforcement of rules related to patient privacy and communication and HIPAA audits are underway. Dr. Segal and Mr. Zeitzer are experts in helping doctors navigate these regulatory guidelines so they can legally and effectively use the internet and social media to grow their practices.
This webinar will advise doctors about common marketing tactics that risk compliance including responding to positive or negative patient reviews, utilizing a texting platform to communicate with patients, and hiring third party vendors to manage social media.
"Doctors need not be slaves to compliance," noted Dr. Segal. "Government regulations do impact healthcare provider marketing, but it can be done safely with proper training and expert guidance."
'How Doctors Can Avoid 5 Marketing Landmines that Risk HIPAA & Regulatory Compliance' Webinar will run for 30 minutes.
Click link to register.
About Jeff Segal, MD, JD, founder/CEO of Medical Justice and eMerit
As a board-certified neurosurgeon and founder/CEO of Medical Justice and eMerit, Jeff Segal, MD, JD, has established himself as one of the country's leading authorities on medical malpractice and online reputation. Medical Justice® creates a practice infrastructure to prevent, deter, and respond to frivolous medical malpractice suits. A complement to the medico-legal protection services of Medical Justice®, eMerit provides a comprehensive platform for managing online medical identity. eMerit fully embraces the social media revolution shaping the healthcare industry, and is dedicated to helping both doctors and patients safely and efficiently navigate the constantly changing internet landscape – all while maintaining HIPAA and regulatory compliance. Visit http://www.eMerit.biz to learn more.
About Scott Zeitzer, president of Mudbug Media and P3 Inbound:
Scott Zeitzer, has been in the healthcare industry for his entire adult life. After earning a masters in biomedical engineering from Tulane University, he sold medical devices to orthopedic and neurosurgeons for nearly 10 years in the New York metropolitan area. He returned to New Orleans in 1998 and started Mudbug Media to provide web and application development for a wide range of companies, from single physician practices to Fortune 500 companies. He also heads P3 Inbound, a marketing and web development company helping medical professionals create an effective online presence. Scott enjoys interacting with clients and providing realistic, targeted solutions to meet business goals.