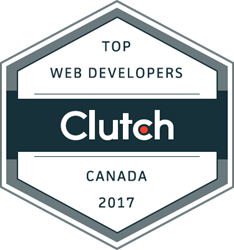 Ottawa, ON (PRWEB) April 03, 2017
Due to the input of our amazing clients, Mediaforce recently was named as a 2017 Top SEO Company in Canada by popular technology resource company, Clutch. Based in Washington, D.C., Clutch researches thousands of technology companies throughout the world to determine the leaders in their specific fields. After conducting thorough, verified client interviews, Clutch creates a leaders matrix made up of the companies who rose to the top based on client experiences, market presence and SEO.
"SEO is often more of a local challenge than it is a national or international challenge," said Alex Miller, Senior Analyst at Clutch. "The firms recognized here have proven records of delivering outstanding results, specifically for Canadian clients."
"We are honored to be listed by Clutch.co as one of Canada's top SEO Companies," said Joe Bongiorno, CEO of Mediaforce.
For more information about how we may be able to help you with your digital marketing strategies reach out and contact us at mediaforce.ca