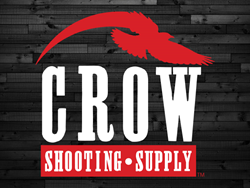 Montezuma Iowa (PRWEB) April 04, 2017
Crow Shooting Supply is now offering the full line up of Smith & Wesson® semi-automatic pistols, revolvers, rifles and Smith & Wesson Performance Center models. Crow is also now selling Smith & Wesson magazines, grips and other parts.
Firearms in-stock and shipping today include the newly-released Smith & Wesson M&P® M2.0 (multiple models available), the Smith & Wesson M&P Sport II OR, the famous 629 .44 Magnum, and many more.
"The name 'Smith & Wesson' inspires a sense of Americana; it's among the most iconic brands in the world," said Steve Crow, Founder and General Manager of Crow Shooting Supply. "We couldn't be more proud to offer their full line of firearms to our dealer customers."
"Smith & Wesson is excited to add Crow Shooting Supply as a distributor partner," added Sue Cupero, American Outdoor Brands Corporation Director of Independent Distributors. "We look forward to working with their team of professionals and having our brands represented as their premier line."
Those interested in partnering with Crow Shooting Supply can learn more by visiting http://www.crowshootingsupply.com or by calling 800-264-2493 to speak with a member of their professional sales team.
About Crow Shooting Supply
Crow Shooting Supply is a family-owned, national wholesale distributor of firearms, ammunition reloading components and shooting accessories. Proudly serving retail gun shops, major sporting goods stores, gun clubs, shooting ranges and government agencies for 30 years, Crow is a full-line supplier of more than 100 of the world's premier shooting industry manufacturers. For more information, or to inquire about partnering with Crow Shooting Supply, call 800-264-2493 or visit http://www.crowshootingsupply.com.
About Smith & Wesson®
Smith & Wesson Corp. is a U.S.-based leader in firearm manufacturing and design, delivering a broad portfolio of quality firearms, related products, and training to the U.S. consumer and law enforcement markets, as well as global military and law enforcement customers. The company's firearm division brands include Smith & Wesson®, M&P®, Performance Center® and Thompson/Center Arms™. For more information on Smith & Wesson, call (800) 331-0852 or log on to http://www.smith-wesson.com.