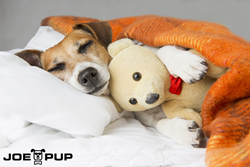 A monthly box with cheap flimsy dog toys and a few small sample snacks is certainly nothing to bark about.
Vestavia Hills, Alabama (PRWEB) April 06, 2017
In an overcrowded market of pet subscription box services sending out a few small sample snacks and cheap flimsy dog toys every month, JoePup.com raises the gift box bar by delivering a bigger better monthly experience for both dogs and their owners.
A true "Mom and Pop" venture, the husband and wife team behind Joe Pup know a thing or two about pampering pets. They are lifelong dog parents who, in reference to their own pups, manage to "spoil 'em rotten" on a daily basis.
In the ongoing pursuit to indulge their dogs, they tested a number of other subscription box services only to be let down by both the poor quality and stingy quantity of products. Those other boxes are "certainly nothing to bark about," the couple insists. Convinced that other dog lovers share their desire for a better pet gift box experience, the pair launched JoePup.com in early 2017.
They distance themselves from competing subscription services in several ways. To begin with, they offer two distinct monthly gift box sizes -- the Standard pack with at least 6 items and their Deluxe box loaded with 10 or more premium products. Compared to similar companies, every Joe Pup box contains higher-value, better quality dog toys and a larger selection of all-natural, US-sourced treats.
The JoePup.com business model is more customer-friendly, too. Unlike other pet box services, Joe Pup subscription plans never auto-renew; clients are never surprised by unexpected credit card charges. What's more, a "no-hassle" cancellation policy allows Joe Pup customers to cancel in the middle of their subscription plan, no questions asked. Finally, the company ships their boxes daily. Dogs and their owners are never kept waiting for their first delivery.
Judging from customer feedback, the JoePup.com approach to monthly dog gift box giving is already a hit with both patrons and their pets:
"These boxes are incredible! All four fur-babies enjoyed opening it and playing with everything inside. Don't miss out on this great deal!" exclaimed one customer in Texas.
Another dog lover from Virginia remarked, "Hey Joe, the awesome box arrived today ... so generous. We weren't expecting so much stuff!"
In addition to the company's popular monthly subscription plans, they also offer a variety of one-time-only gifts. These include several different birthday celebration boxes, their "Good Anytime" gift box collection, and a unique "Paleo Dog Sampler" full of single-ingredient, grain-free treats and several back-to-basics toys. All of these "one-off" boxes are offered in three convenient sizes.
A bigger better gift box experience is just a click away at JoePup.com -- because dogs really do deserve to be "spoiled rotten."