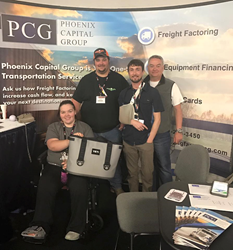 Phoenix Capital Group at MATS 2017 giving away a Yeti Hopper to this lucky couple!
Scottsdale, Arizona (PRWEB) April 12, 2017
Phoenix Capital Group, LLC provided working capital solutions to 46 new clients in 20 states across the country, representing $6,900,000 in approved credit facilities during January through April of 2017. Phoenix Capital Group is nationally known and has been providing tailor-made financial solutions, primarily in the transportation industry for various sized fleets, since 2001. The company maintains its' headquarters in Scottsdale, with offices in Texas, Alabama and Tennessee. Product offerings include, but are not limited to, accounts receivable financing, equipment financing, and fuel cards.
The year 2017 has been eventful for Phoenix Capital Group, representatives have traveled to Louisville, Kentucky to visit clients and prospective clients at the Mid-America Trucking Show. Representatives look forward to the Great American Trucking Show 2017 in Dallas, Texas. Representatives at Phoenix Capital Group have graciously volunteered their personal time, money and energy by giving back to the community during the first quarter of 2017. Volunteering together has built friendships among PCG's team while helping build the community.
About Phoenix Capital Group, LLC
Phoenix Capital Group is an industry leading provider of transportation financing services for trucking companies in the United States. Headquartered in Scottsdale, Arizona, Phoenix Capital Group also maintains regional offices in Texas, Alabama, and Tennessee. Additional information about Phoenix Capital Group, LLC is available at http://www.pcgfactoring.com. This Phoenix Capital Group news release and other announcements are available at http://www.pcgfactoring.com/press-release/ and as part of a Phoenix Capital Group load board at http://pcgfactoringloadboard.com/. You can also follow our news on Twitter at @PHXCapitalGroup.
Contact: Phoenix Capital Group, LLC, (623) 298-3460, or fill out a contact form on the website.