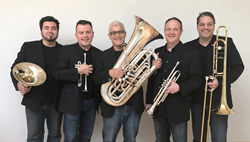 "We travel all over the world, and Yamaha is known everywhere," says Jeff Conner, "so it's a great collaboration, a great fit."
Indianapolis, Indiana (PRWEB) April 06, 2017
Yamaha Artist Services today announced that Boston Brass — a quintet that's entertained audiences worldwide for over 31 years with a unique combination of classical repertoire, jazz standards and original compositions — has joined the Yamaha Artist family. Formed in 1986 by music students at Boston University, the group features founding member Jeff Conner on trumpet, Jose Sibaja on trumpet, Domingo Pagliuca on trombone, Sam Pilafian on tuba and Chris Castellanos on horn.
The Yamaha reputation for craftsmanship played a big role in the band's decision to sign on. "It's the philosophy of non-stop improvement that Yamaha has with its instruments," says Sibaja. "They never stop trying to make their instruments better. To a performer, to an instrumentalist, that's money in the bank."
Conner also credits the universal respect for the Yamaha brand. "We travel all over the world, and Yamaha is known everywhere," he says, "so it's a great collaboration, a great fit."
In addition to performing, Boston Brass puts a lot of time and energy into doing clinics, master classes and residencies. They've been involved in educational activities at such venerable institutions as the Juilliard School, the Eastman School of Music, the University of North Texas, Yong Siew Toh Conservatory of Music in Singapore and the Royal Academy of Music in London, among many others. This focus on music education dovetails nicely with a similar philosophy at Yamaha, and that was yet another factor that influenced the band's decision to sign on.
"The Yamaha commitment to music education is something that we believe in," Sibaja says. "It's a huge part of what we do. We needed to pair up with that kind of company."
The band members are effusive in their praise of Yamaha instruments. Conner and Sibaja both tell similar, "love at first note," stories about choosing their horns. "I've been playing trumpet for 40-something years," says Conner, who decided on a Yamaha Chicago model, "and as soon as I started playing it, the first few notes I played, I knew it was a great horn."
Sibaja recalls his first encounter with his Yamaha 9335 New York trumpet. "The response was great, the pitch was awesome, the sound was incredible," he says. "And on the other end of the bell, which is the most important part of it, it sounded just as good."
"With a focused commitment by Yamaha in support of music educators, the addition of Boston Brass will help us serve more directors and students than ever," said John Wittmann, director of Artist Relations and Education, Yamaha Artist Services Indianapolis. "The spirit of the group and the sound of their music is inspiring and unique. We at Yamaha are thrilled about our future with Boston Brass."
With their Yamaha horns in tow, Boston Brass will soon depart on a tour of Japan. "We're going to be over there for about a week and a half," says Conner. "One of the highlights of the trip will be performing at the Japan Band Clinic, which is an enormous and prestigious event. It's Yamaha sponsored, and we're really looking forward to playing for all those bands, and meeting all the people over there. It's going to be a great time."
-END-
About Yamaha
Yamaha Corporation of America (YCA) is one of the largest subsidiaries of Yamaha Corporation, Japan and offers a full line of award-winning musical instruments, sound reinforcement, commercial installation and home entertainment products to the U.S. market. Products include: Yamaha acoustic, digital and hybrid pianos, portable keyboards, guitars, acoustic and electronic drums, band and orchestral instruments, marching percussion products, synthesizers, professional digital and analog audio equipment, Steinberg recording products and NEXO commercial audio products, as well as AV receivers, amplifiers, MusicCast wireless multiroom audio systems, Blu-ray/CD players, earphones, headphones, home-theater-in-a-box systems, sound bars and its exclusive line of Digital Sound Projectors. YCA markets innovative, finely crafted technology and entertainment products and musical instruments targeted to the hobbyist, education, worship, music, professional audio installation and consumer markets.