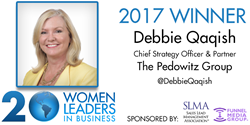 "Debbie Qaqish is iconic in the world of Revenue Marketing™ both as a practitioner and a thought leader," notes SLMA Founder, James Obermayer. "She literally wrote the book "Rise of the Revenue Marketer."
(PRWEB) April 06, 2017
Revenue Marketing™ consulting firm, The Pedowitz Group (TPG), announces Debbie Qaqish, Chief Strategy Officer and Partner, has been name one of the Top 20 Women to Watch in Sales Lead Management by the Sales Lead Management Association (SLMA). This is the fourth time Debbie has earned this coveted award. SLMA's Top 20 Women to Watch contest is an annual competition. Judged by a panel of independent marketing experts, winners are selected based on their proven ability to drive wealth for clients and within their own organizations.
"Debbie is iconic in the world of Revenue Marketing™ both as a practitioner and a thought leader," notes SLMA Founder, James Obermayer. "She literally wrote the book "Rise of the Revenue Marketer" and has earned a reputation for helping companies transform their marketing organizations into Revenue Centers of Excellence."
Debbie is a transformational leader. As a visionary change agent, her greatest skillset is helping organizations assess the need for change, create a vision for change, inspire others to believe in the change and execute the change. This leadership style has helped The Pedowitz Group become a widely recognized and regarded Revenue Marketing consulting firm. The Revenue Marketing Journey and the principles for Revenue Marketing became tools of change evangelized.
Debbie first bought marketing automation in 2004 as VP of Marketing for an Atlanta-based software company. She understood then that marketing automation would change sales and marketing roles, forever. In 2007 she became a part owner and partner at The Pedowitz Group and is a visionary, pioneer and thought leader in the field of B2B modern marketing. She coined the term "Revenue Marketer™" in 2011 to describe the new role of marketing, created the Revenue Marketing Journey™ in 2011, launched WRMR Revenue Marketing™ Radio for Marketing Leaders in 2009 and published her award winning book "Rise of The Revenue Marketer" in 2013.
Dubbed The Queen of Revenue Marketing, Debbie is working on her PhD and writing her dissertation on B2B CMO accountability in a digital world. She also teaches an MBA program on Revenue Marketing at the College of William and Mary.
About The Pedowitz Group – Connecting Marketing to Revenue™
The Pedowitz Group wrote the book, and is the undisputed thought leader on Revenue Marketing™. As your partner, TPG helps you plan, build and optimize your revenue engine by delivering services in MarTech, demand generation and marketing operations. We believe that Marketing is the driver of customer engagement that fuels the revenue engine. The Pedowitz Group customers have won over 50 national awards for their Revenue Marketing excellence. To discover how we can help your organization become successful Revenue Marketers™, visit http://www.pedowitzgroup.com, or call us at 855-REV-MKTG or visit Revenue Marketer Blog.