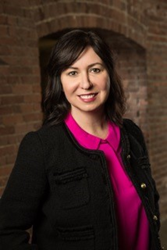 "I am excited to join Fjuri as we build a team that takes pride in thinking differently to tackle some of the biggest challenges facing CMOs and business leaders today. - Tammy Perkins, Chief People Officer, Fjuri
Seattle, WA (PRWEB) April 06, 2017
Fjuri, a new marketing and digital strategy firm focused on helping major brands tap into big data and predictive analytics, today announced Tammy Perkins has joined the firm as Managing Partner and Chief People Officer. A veteran with more than 20 years of experience working with major brands and startups including Amazon, Microsoft and Appen, Perkins will lead Fjuri's growth from talent acquisition, employee experience, culture and strategy.
Founded by Microsoft and industry veterans Thom Gruhler and Paulo Resende, Fjuri helps CMOs and brands to enhance their marketing strategy and execution, while harnessing the latest data intelligence and technology to optimize marketing performance. Fjuri is hiring across a broad spectrum of roles from data scientists and business analysts to digital and content marketers.
"I am excited to join Fjuri as we build a team that takes pride in thinking differently to tackle some of the biggest challenges facing CMOs and business leaders today," said Perkins. "Thom and I both share the belief of investing in our team by creating a culture and environment where bold ideas can thrive and employees are empowered."
"Building a world-class team starts with hiring the right people to lead our business," said Fjuri CEO Thom Gruhler. "Tammy's extensive history of building agile and thriving teams is already helping Fjuri attract the best and the brightest."
Perkins joins Fjuri with more than 20 years of human resources and talent acquisition experience from high tech startup to Fortune 100 companies, supporting customer service, operations, sales, engineering and marketing teams in periods of high growth and transformation. Her most recent position was Senior Vice President, Crowdsourcing and HR at Appen, a global provider of speech and search technology services. Prior to Appen, Perkins led human resources for Microsoft's global customer services and support team of 10,000 employees. During her time at Microsoft, she met and partnered with Gruhler as the HR leader for the Windows Marketing group where Gruhler was the Corporate Vice President and CMO. From 2000 to 2013, Perkins also led human resources for Amazon in senior leadership roles for a number of key businesses and launches during a period of significant scaling for a variety of global teams.
About Fjuri:
Based in Seattle, Fjuri is a unique marketing strategy consultancy offering digital strategy, multichannel, development and managed solutions for its clients. Fjuri works with clients to enhance marketing strategy and execution – harnessing the latest approaches, world-class technology, data science and the right analytics architecture to optimize marketing performance and increase ROI. For more information, please visit http://fjurigroup.com.