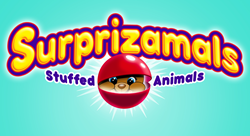 Santa Clarita, CA (PRWEB) April 10, 2017
If you can dream it, they can make it. The Beverly Hills Teddy Bear Company (BHTB Co.), a leader in the creation and design of high-quality plush merchandise for established companies worldwide, is bringing Surprizamals to countries around the world!
Surprizamals, the first plush line to enter the blind capsule space, are now available in Canada, Australia, United Kingdom, Poland, South Africa and 40 other countries across the globe. Now Surprizamals fans around the world have the opportunity to join in on the Surprizamals fun to collect, trade and love their new surprize pop out play friends.
Surprizamals are a popular plush item due to their collector appeal, adorable characteristics and the chase phenomenon of finding ultra rare items and favorite characters in the line. Made of soft, high quality plush, Surprizamals stuffed animals are hidden in surprise packaging called Surprizaballs. The toy remains a mystery
until opened – you never know which one you will get.
"We have gone from two retailers in October 2016 to over 40 countries in less than six months," said David Socha, Chief Executive Officer, Beverly Hills Teddy Bear Company. "We are excited to expand and bring the element of surprise to Surprizamals fans around the world."
Currently available are Series Two and Series Three. Series Two loveable plush pals include Kit the Cat, Cristy the Crab, and rare Surprizamals like Izzy the Unicorn and other ultra rare secret Surprizamals.
Series Three includes adorable characters such as Drake the Dragon, Squiggle the Octopus and ultra rare Hannah the Horse.
Surprizamals are available for children ages 3+ and retails for $4.99.
For more information, please visit http://www.surprizamals.com.
About Beverly Hills Teddy Bear Company:
BHTB Co. is a full spectrum manufacturer that specializes in custom, private label and licensed toys, gifts and plush for both in-line retail sales and strategic promotions. For over 20 years, BHTB Co. has partnered with established companies worldwide to design, create and manufacture safe, high quality merchandise designed to work across all channels of trade.
Media contact: ChizComm Ltd. | http://www.chizcomm.com on behalf of Beverly Hills Teddy Bear Company Aaron Wade | 416.551.0822 x 343 | aaron(at)chizcomm(dot)com