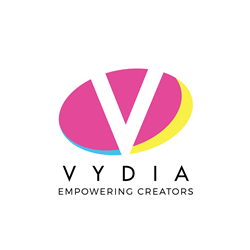 Holmdel, NJ (PRWEB) April 07, 2017
Vydia, the premium video tech startup empowering video creators to publish, protect, monetize, and distribute their content on one centralized platform, has launched their new mobile app. Vydia Mobile's sleek design incorporates key aspects from the Vydia platform, offering its 135K+ creators complete transparency on their video content and earnings through a dashboard of actionable analytics.
The Vydia Mobile home screen displays data through an easily digestible format and offers important information regarding content earnings and video performance across all networks including User Generated Content (UGC) claims. Creators are also able to organize their metrics based on a variety of factors including date published, network, or individual asset, allowing users to identify trends leading to video optimization and increased revenue.
"Vydia's mission has always been to help video creators navigate the fragmented process of managing their content," says CEO Roy LaManna. "Launching Vydia Mobile centralizes and simplifies the process of publishing, protecting and monitoring video metrics, while granting transparency users can't find anywhere else."
Vydia Mobile also provides a multi-network publishing tool that enables creators to streamline and expedite the video publishing process across all social networks. After selecting a video to publish, users can designate destinations and chose to deploy their content immediately or schedule a certain date and time to go live. With a commitment to their creators to protect their intellectual property before their content is published, Vydia users are prompted to apply specific policies to ensure their content is secure on every video released.
The Vydia Mobile App is free and is available now for all Android and iOS systems. Get the app today on Google Play or download it on the App Store.
About Vydia
Vydia is a premium video technology company that empowers creators to publish, protect, monetize and distribute their visual content on one centralized platform. Catering to an array of over 135,000 users worldwide including multi-platinum artists, social influencers, independent musicians and entertainment outlets, Vydia helps creators not only manage their video content better, but smarter. Vydia is a trusted partner of major digital publishers like Vevo, YouTube, Facebook and Dailymotion as well as networks like BET, MTV, and Music Choice. To learn more about Vydia, please visit https://www.vydia.com