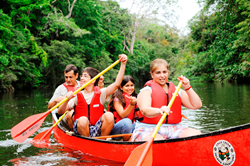 We like to help families create a healthy mix of activities they can participate in together
San Ignacio, Belize (PRWEB) April 12, 2017
A range of new summer activities aimed at making Belize family vacations more educational, inclusive, fun and affordable have just been announced by The Lodge at Chaa Creek, a popular family owned and operated eco-resort in western Belize.
"During our evolution from our family farm to becoming one of Belize's first eco-resorts we always tried to make sure we were a place that families could enjoy together," general manager Bryony Fleming Bradley said.
"I think that's one of the things that sets us apart. My brother and I were born and raised here, and we literally grew up along with Chaa Creek, with my parents always welcoming families and making sure that there was something of interest for guests of all ages. Many of our 160 staff members are from local villages with very strong family ties, with brothers, sisters, aunts, uncles and now even their own children working here together, so it definitely has that flavour.
"It also ensures a steady supply of warm and trustworthy babysitters and child minders," she added.
Ms Fleming Bradley said that her own family recently decided to emphasise family and kids friendly vacations this coming summer and worked with staff to review and refresh Chaa Creek's extensive range of onsite activities, tours, and vacation packages. She pointed out that young guests under the age of 17 who share a room with their parents stay and enjoy activities for free.
"We're already known as a family friendly resort that travel agents refer to as Belize's "Destination Within a Destination" because of all the things there are to do within our 400-acre private nature reserve, and we pulled managers together to have a look at creating even more fun activities.
"For example, while adding new kids' meals to our menu we decided it would be fun to let them see where the meals come from, and how ancient Maya organic farming still works today to supply our restaurant with fresh, healthy farm-to-table meals.
"So kids and teens, either with their parents or on a tour with our licenced naturalist guides, can visit the onsite traditional Maya Organic farm to see how we use recycling to grow fruits and veggies and let chickens and sheep enjoy a free range lifestyle. They can then harvest some produce which they'll be proud to see served on the family's plates at dinner."
Ms Fleming Bradley said other onsite attractions such as the Belize Natural History Museum, Butterfly Farm, Mays Medicinal Plant Trail, guided nature hikes, jungle safaris and a new Rainforest Treasure Hunt also encourage families and young people to engage with and develop an appreciation for the natural world.
"We like to help families create a healthy mix of activities they can participate in together, like downstream tubing and canoe paddles, mountain biking, horseback riding and hiking along the miles of well-maintained trails crisscrossing our nature reserve and exploring ancient Maya temples, either self-guided or with our licenced naturalist guides. We like to combine this with giving parents and grandparents opportunities for some adult time while younger members enjoy rainforest treasure hunts and other activities that are as fun as it they are educational.
"With a large, diverse selection of accommodation options ranging from the rustic to the luxurious, a team of vacation planners who work with guests to create Belize holidays that cater to their own individual interests and lifestyles, and with our wide range of all-inclusive Belize vacation packages, we make sure that all families and family members, from babies to grandparents, are catered for.
"And for travellers who wish to have both a jungle and Caribbean beach holiday, the Rainforest to Reef packages with our Caribbean partner resorts make it easy to combine stays at two resorts with all transfers, accommodations and meals covered for one set price. They're a seamless, affordable way to experience the best of both Belizean worlds, meaning that families can breakfast in the jungle and be swimming and snorkelling in the Caribbean that afternoon with everything; from transport to special needs to ensuring your luggage arrives with you, taken care of.
"We've done a lot of travelling with our own family, and we know what's involved and how to make vacations as easy and enjoyable as possible,"" Ms Bradley said.
Ms Bradley encouraged people to visit Chaa Creek's website and then contact their travel agents or the eco-resort directly to learn more about special family friendly vacations.
"We also tell people to start planning their summer vacations early, and stay tuned via our website, newsletter, blog or communicating directly with our vacation planners. We understand how important quality time and vacations are for families, and really do enjoy working with our guests to create experiences they'll remember forever. The smiles we see are a great reward," Ms Fleming Bradley said.
The Lodge at Chaa Creek is a multi-award winning eco resort set within a 400-acre private nature reserve along the banks of the Macal River in Belize. It was recognised by National Geographic with first place honours at the 2017World Legacy Awards held in Berlin.
ENDS