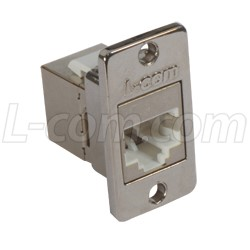 "These mini-couplers combine innovative design and affordable price to deliver a unique kit that allows panel mounting with virtually any panel thickness," said Dustin Guttadauro, Product Manager
NORTH ANDOVER, Mass. (PRWEB) April 11, 2017
L-com Global Connectivity, a preferred manufacturer of wired and wireless connectivity products, announced today that it has launched a new line of panel-mount RJ45 mini-couplers for use with premise wiring, telecommunications, LANs, voice, data and video networking and 10BASE-T, 100BASE-TX and 1000BASE-T Ethernet.
L-com's new RJ45 mini-couplers are available with a category 5e or category 6 rating in both shielded and non-shielded versions. They measure less than one inch in length and are engineered to provide high-performance in the most compact design possible. The reduced space and weight of these mini-couplers allows for better air flow and more room to work with behind panels, which is less stressful on cable exits and helps to ensure the cable's radius is not exceeded.
"This exciting new line of ECF panel-mount RJ45 mini-couplers is an expansion of L-com's best-selling line of ECF couplers. These mini-couplers combine innovative design and affordable price to deliver a unique kit that allows panel mounting with virtually any panel thickness," said Dustin Guttadauro, Product Manager.
These category-rated mini-couplers exceed category standards and EIA568A/B dual-wiring provides compatibility for every installation. They feature a solid die-cast metal mounting frame and come in a kit that includes a snap-in mini coupler, mounting frame and 4-40 machine screws.
For more information about this release, please contact:
Peter McNeil
L-com Global Connectivity
17792 Fitch
Irvine, CA
978-682-6936 x1174
About L-com Global Connectivity:
L-com Global Connectivity, a preferred manufacturer of wired and wireless connectivity products, offers a wide range of solutions and unrivaled customer service for the electronics and data communications industries. The company's product portfolio includes cable assemblies, connectors, adapters, computer networking equipment, and custom products, as well as wireless connectivity products which include antennas, RF amplifiers, coaxial lightning and surge protectors, and NEMA rated enclosures. Trusted for more than 30 years, L-com, which is headquartered in North Andover, Mass., is ISO 9001: 2008 certified and many of its products are UL® recognized. For more information, please visit: http://www.L-com.com/