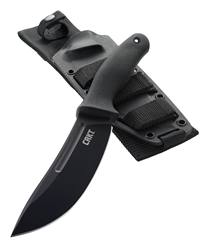 (PRWEB) April 12, 2017
Several years ago, Ken Onion ventured north for a bear hunt on America's last frontier. The Humdinger™ is the one he wished would have existed when he was elbow-deep field dressing the grizzly his team took down. And with a strong black oxide finish, this 6" blade, designed for long, sweeping motions, will break down big game and get it straight to the freezer.
A grippy thermoplastic polyurethane (TPU) handle provides a firm grip even if gutting game in the pouring rain. Once the job is done, a quick wipe will do, then securely back into the polypropylene sheath it goes.
The Humdinger™ is built with an extremely simple design. Fewer components directly translate to a stronger, more efficient knife. There's no need for frills or aesthetics when one is hundreds of miles from anywhere.
Out in bear country, one can't afford to go without an outstanding knife—on that account, the Humdinger™ delivers.
The Humdinger™ manufacturer's suggested retail price is $89.99
Link to Product Information Page:
https://www.crkt.com/humdinger.html
PRODUCT SPECIFICATIONS
HUMDINGER™
SKU: K110KKP
Blade: Length: 5.973" (151.7 mm)
Edge: Plain Steel: 65Mn Carbon Steel
Finish: Black Oxide
Thickness: 0.180" (4.5 mm)
Overall: 11.438" (290.5 mm)
Weight: 9.4 oz. (266.4 g)
Handle: Thermoplastic Polyurethane (TPU)
Style: Fixed Blade Knife w/Sheath
Sheath: Material: Polypropylene
Weight: 5.7 oz. (161.5 g)
Founded in 1994, CRKT® is the industry's premier brand of knives, tools, and lifestyle accessories, with a reputation for innovative design. For more information, call: (800) 891-3100, email: info(at)crkt.com, on the web: http://www.crkt.com.
###