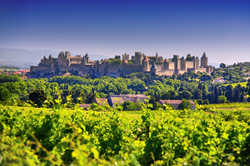 We have so much knowledge of wonderful places and pleasures of France that we experienced firsthand, yet we could only share this knowledge with words and pictures on the page—until now." - Guy Hibbert, editor-in-chief, France Today
Bath, UK (PRWEB) April 10, 2017
For more than 30 years, France Today magazine has been illuminating the golden treasures of France for people who live and travel there. Now, in 2017, they have launched France Today Travels, a series of six luxury tours across three regions of France between May and October: Provence, Dordogne and Southern France (now called Occitanie).
Inspired by the photographs and stories found in France Today, France Today Travels offers weeklong, luxury, hyper-local tours that bring the pages to life through immersion in the culture, travel, history, art and gastronomy hidden within the delightful smaller towns and local treasures found off the beaten path in France's most beautiful destinations.
Tour participants will be exposed to a wealth of unforgettable locations, people and "behind the scenes" encounters led by experienced tour managers and handpicked local guides. Who knows what might happen as the participants get to know the locals—they may find themselves dining with the mayor, visiting a local artisan, or chatting with a local vineyard owner. What the participants are guaranteed to leave with are truly unique travel memories and experiences.
Tours are limited to small groups to give each participant personalized attention, and the company's strict "no-rush" policy ensures plenty of time to savor all the rich experiences.
"This idea has been on my mind for years," said Guy Hibbert, Editor in Chief of France Today. "We have so much knowledge of wonderful places and pleasures of France that we experienced firsthand, yet we could only share this knowledge with words and pictures on the page—until now."
France Today Travels is headed-up by Jennifer Dugdale, a seasoned travel professional, who previously ran her own tour business in Provence. The itineraries she developed are tempting and the hotels are charming.
"When designing these tours, we wanted to provide unique experiences and comfort, but we also wanted that something extra—whether you call it ambiance or magic," she said.
Current France Today Travels tour themes include:

Springtime Southern France (May 21-28) – a medieval fortress, picnic in the vines and a Catalan artists trail in the sunny southwestern region of Occitanie
Delightful Dordogne (June 5-12) – scenic chateau towns, pre-historic cave art and romantic watermills, along with local fêtes and seasonal cheeses
Provence Dreams (June 18-25) – miles of lavender, the royal city of Aix-en-Provence and the sparkling blue Mediterranean
A Dordogne Indian Summer (September 4-11) – clifftop castles, lazy rivers, night markets and the ultimate in French cuisine
A September in Provence (September 18-25) – hilltop stone villages, a trip to The Luberon, Cezanne's mountain and a star-filled food festival at the height of wine harvest season
A Southern France Harvest (October 2-9)– castles and crusaders, an artist's palette of the vineyards' fall colors and the annual wine harvest festival in Banyuls-sur-Mer, with grapes arriving by sea
Prices for France Today Travels tours begin at $4,650 per person. Each tour includes: seven nights in two carefully selected hotels; all breakfasts; 4-5 lunches and 4-6 dinners with local wines (depending on selected tour dates); services of an experienced tour director and local guides where applicable; all listed private tours, entrance fees and tastings; comfortable group transportation throughout the trip; arrival and departure transfers from select airports and train stations; and all gratuities for baggage, porters and hotel services.
"There is something for everyone in the variety of themes and destinations, and a level of intimate detail not found in other tours," Dugdale explained. "We know that these are the things that will make our trips especially memorable."
Who better knows the places, pleasures and people that make la belle France so remarkable?
About France Today Travels:
As the leading international journal of French travel and culture, France Today magazine has been inspiring Francophiles for more than 3 decades. Now, France Today Travels has created immersive weeklong luxury tours through stunning areas of Provence, Languedoc-Roussillon and the Dordogne that bring their pages to life. France Today Travels is part of France Media Ltd, a UK limited company. It was created by an enthusiastic team of Brits and Americans who share a deep love of France with a mission to create truly memorable experiences for those discovering magical regions of France by offering immersive journeys and unique luxury adventures for small group travelers. France Today Travels is based in Bath, UK, and can be reached toll-free at 1-888-710-4089 or by email at info(at)francetodaytravels(dot)com. More information can be found at http://www.francetodaytravels.com.
# # #