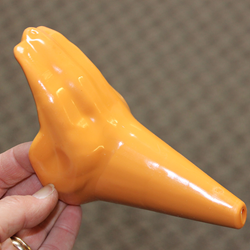 Huestis added "And it was very important to us that we let consumers know that a portion of all proceeds is going to be donated to local and national organizations that support victims of sexual assault."
Kennebunkport, ME (PRWEB) April 12, 2017
When Tom Byrne and Martha Huestis had the idea for the Tiny Hands Bleep-Grabbing™ Female Urinary Device, they had one thing in mind – make people take a serious look at the problem of sexual assault with an outrageous product that would get noticed and also take a jab at the President.
"None of what was said by President Trump in that recording was funny, especially the part about 'p***y-grabbing,'" said Byrne, co-founder of What The, LLC. "But the more we thought about all the jokes being made about him, his 'tiny hands,' his lewd comments, his many alleged assaults, the rumored Russian 'golden showers,' made us want to create a parody product that would incorporate all of these and bring awareness to the callous attitudes that can lead to sexual assault."
Huestis added "And it was very important to us that we let consumers know that a portion of all proceeds is going to be donated to local and national organizations that support victims of sexual assault."
Playing off Trump's book 'The Art of The Deal,' the box for the Tiny Hands Bleep-Grabbing™ F.U.D. states "In The Art of Business, Every Deal Always Ends with A Shake." Byrne commented that he also wanted to show that women don't get treated equally in the business world and deserve the same opportunities. And with states considering various 'bathroom bills' regulating gender specific bathrooms, the Tiny Hands Bleep-Grabbing™ Female Urinary Device also parodies that issue as well, and printed various 'Alternative Facts' on the box.
ABOUT WHAT THE LLC
What The LLC is a Maine based company that produces thought provoking, parody products aimed at raising awareness through unique and humorous designs. Their latest product, the Tiny Hands Bleep-Grabbing™ Female Urinary Device can be seen at http://www.bleepgrabbing.com and you can 'like' their Facebook page at http://www.facebook.com/bleepgrabbing. Contact Jonathan Farley at Smaht! Ideas for more information: jonathan(at)smahtideas(dot)com.