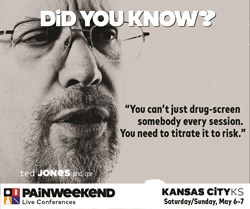 This is great opportunity [for those] involved in the care of patients with pain to gain from nationally acclaimed faculty the most current perspective on the challenges of dealing with patients who are suffering from chronic pain."
Montclair, NJ (PRWEB) April 13, 2017
PAINWeekEnd (PWE) Kansas City on May 6 and 7, at the Sheraton Overland Park Hotel at the Convention Center at 6100 College Blvd in Kansas City, will be an educational and exciting 2-day program.
Sri Nalamachu, MD, who will be presenting at PWE Kansas City, comments, "This is great opportunity for physicians, physician assistants, nurse practitioners, nurses, physical therapists, and pharmacists who are involved in the care of patients with pain to gain from nationally acclaimed faculty the most current perspective on the challenges of dealing with patients who are suffering from chronic pain." Dr. Nalamachu is Clinical Associate Professor at Kansas University Medical Center in Kansas. He will be presenting 2 courses: Regional Pain Syndromes: Neck and Back; and Office Based Procedures for Primary Care Practitioners.
Other courses (subject to change) include: The Advanced Practice Provider in the Acute Care Setting; Evidence-Based Approaches to Chronic Pain Management: Time to Reconsider the Benefit of Technophilism?; Reefer Madness: Taking the Insanity Out of Medical Cannabinoids; Complex Cases in Pain Management; Migraines A-Z; Ain't Misbehavin': Decreasing and Managing Pain Patient Aberrant Behavior; When That Shark Bites: Classic Central Pain Syndromes; Rational Polypharmacy; The Five Coping Skills That Every Patient Needs; and Back to Basics: The Role of Chronic Opioids for Chronic Pain.
Commercially supported activities—addressing a range of product, disease state, and medical information topics—will also be presented.
Online registration fee for this PAINWeekEnd Conference: $199. PAINWeekEnd registrants may register for the PAINWeek National Conference, September 5-9, in Las Vegas, for $200 off the current online published price.
PAINWeekEnd is provided by Global Education Group. About Global Education Group:
Global Education Group focuses on producing partnership-based CME for healthcare practitioners. The Global team works with a select group of medical education companies, associations, academic institutions and healthcare facilities to develop and accredit live healthcare conferences and workshops as well as online activities. With each partnership or joint providership, Global brings accreditation expertise, project management excellence and grant funding intelligence. Based in Littleton, Colo., Global has accreditation with commendation from the ACCME. Global also holds accreditations to offer continuing education for nurses, nurse practitioners, pharmacists, dietitians, dentists and psychologists. Global is a division of Ultimate Medical Academy.