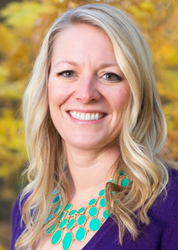 Mt. Horeb, WI (PRWEB) April 11, 2017
Patients with missing teeth in Mt. Horeb, WI, can now turn to Dr. Angela Cotey for precise dental implant placement, with or without a referral. As a general dentist, Dr. Cotey offers procedures guided by the reliability and precision of modern Cone Beam CT imaging technology. This technology allows Dr. Cotey to precisely place each dental implant in a location providing the greatest stability and long-term success.
Dental implants consist of a titanium root, a tooth-like crown, and an abutment piece that joins the two together. To successfully place an implant, Dr. Cotey must first determine whether the bone is strong enough to support the load of the implant. This is done using imaging technology. When Dr. Cotey utilizes the Cone Beam CT imaging technology, it captures and creates a 3D map of patient's oral structures. With this information, Dr. Cotey can determine which areas of the jaw have the greatest bone density and are the most likely to properly support the load of an implant. When placed by an experienced dentist and maintained properly by patients, implants can last a lifetime.
There are additional benefits to the guided placement of dental implants. Patients with missing teeth in Mt. Horeb, WI, may experience less discomfort or pain at the site of the implant and as a result of the accuracy allowed with each placement, there may also be a reduction in surgery-related complications. In some cases, nerves and other important structures can be damaged or temporarily affected when implants are placed with traditional imaging techniques. These problems are less likely to occur when a CBCT is used.
Patients with missing teeth in Mt. Horeb, WI, are invited to contact Dr. Cotey's office for more information on dental implants. To schedule an appointment, call 608-433-2102.
About the Doctor
Dr. Angela Cotey is a general dentist offering personalized dental care to patients in Mount Horeb, WI. Dr. Cotey and her entire team take pride in offering the latest advancements in dentistry and dental technology to ensure each patient enjoys a comfortable experience with long-lasting results. Dr. Cotey combines advanced dentistry with a fun and friendly style. She is a member of numerous professional organizations including the American Dental Association, the Wisconsin Dental Association, American Academy of Cosmetic Dentistry, Fellow in the Academy of General Dentistry and current President of the Wisconsin Dental Study Club and Madison Dental Progress Forum. To learn more about Dr. Cotey or the services she offers, please visit her website at http://www.villagesmilecare.com or call 608-433-2102 to schedule an appointment.