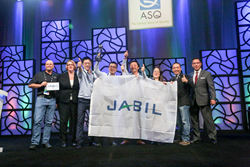 Charlotte, N.C. (PRWEB) April 12, 2017
ASQ, the world's largest network of quality resources and experts, has announced 23 global teams from eight countries as finalists in the 32nd annual International Team Excellence Awards.
The teams will be part of the live case study presentations May 1–2, at ASQ's annual World Conference on Quality and Improvement at the Charlotte Convention Center in Charlotte, N.C.
Teams representing various industries including manufacturing, service, health care, government and education will vie for the ASQ Gold, Silver and Bronze level awards. Winners will be announced during an awards ceremony on Wednesday, May 3, and will serve as benchmarks of organizational excellence in all industries.
The finalists' projects showcase creative, innovative solutions and significant organizational cost savings. Conference attendees can observe team project presentations that demonstrate the real-life application of quality tools that help companies save billions by creating efficiencies and reducing waste. The following finalists have been invited to participate in the 2017 International Team Excellence Award Process.
Education
•Gateway Technical College — Kenosha, Wis.
Government
•Ministry of Defence - Republic of Singapore Airforce — Singapore
•National Registry of Identification and Civil Status — Lima, Peru
Health Care
•Jabil Circuit — Shanghai, Shanghai; Wuxi, Jiangsu, China (three teams)
•Mallinckrodt Pharmaceuticals — Hobart, N.Y.
•Max Healthcare Institute Ltd. — Gurgaon, Haryana, India
•Max Multi Speciality Centre, Panchsheel Park — New Delhi, India
•Max Super Speciality Hospital, Patparganj — Gurgaon, Haryana, India
•Sylvester Comprehensive Cancer Center-University of Miami — Miami, Fla.
Manufacturing
•ArcelorMittal Mexico — Lazaro Cardenas, Michoacan, Mexico
•Flex — Milpitas, Calif.
•Molinos Río de la Plata S.A. — Buenos Aires, Argentina
•Rassini Suspensiones S.A. de C.V. — Piedras Negras, Coahuila, Mexico (two teams)
•Shanghai Yanfeng Johnson Controls — Shanghai, China
•Sime Darby Plantation Sdn. Bhd. — Carey Island, Sengalor, Malaysia
•Sullair Argentina — Capital Federal, Buenos Aires, Argentina
Service
•eClerx Services Ltd. — Navi Mumbai, Maharashtra, India
•Max Life Insurance Company Ltd. — Gurgaon, Haryana, India (three teams)
Since 1985, thousands of teams worldwide have participated in this team recognition process. Organizations such as Alcoa, Anheuser-Busch, Bayer, Coca-Cola, Ford Motor Company, Johnson Controls, General Motors, Ritz-Carlton and Telefonica — a major cell phone operator in Argentina — have showcased proven results with long-term implications, resulting in cost savings of billions of dollars.
ASQ World Conference Keynotes
Jeremy Gutsche, entrepreneur, CEO, innovation expert and best-selling author, is one of five keynote speakers who will present at ASQ 2017 World Conference on Quality and Improvement.
In addition to Gutsche, other keynote speakers include Celeste Headlee, award-winning journalist for NPR, PBS and CNN and author of "Heard Mentality: An A to Z Guide to Taking Your Radio Show or Podcast from Idea to Hit;" Kelly McGonigal, psychologist and lecturer at Stanford Graduate School of Business; Geoff Colvin, Senior Editor-at-Large, Fortune Magazine and best-selling author/commentator on business and economic issues; and Dr. Sebastian Wernicke, chief data scientist at One Logic.
ASQ's World Conference on Quality and Improvement will feature sessions that will cover topics including quality fundamentals, leadership and innovation that are critical to a variety of industries.
About ASQ
ASQ is a global community of people dedicated to quality who share the ideas and tools that make our world work better. With millions of individual and organizational members of the community in 150 countries, ASQ has the reputation and reach to bring together the diverse quality champions who are transforming the world's corporations, organizations and communities to meet tomorrow's critical challenges. ASQ, with its world headquarters in Milwaukee, Wis., USA, operates regional centers in the U.S. and Canada, North Asia, South Asia, Latin America and Middle East and Africa. Learn more about ASQ's members, mission, technologies and training at asq.org.